Tard dans la nuit... / Late in the night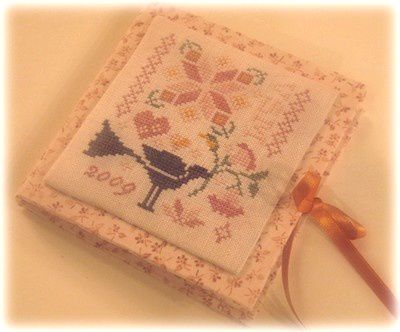 Les photos sont un peu jaunes, c'est à cause de la lumière électrique, j'ai travaillé tard dans la nuit, j'avais des petits yeux ce matin... On se souviendra de mon interprétation en rose du modèle BBD "A Small Token" et du point d'interrogation quant à sa finition. Je ne voulais pourtant pas laisser traîner l'affaire trop longtemps. Alors hier soir, tandis que le docteur House maltraitait son équipe, j'ai confectionné un petit carnet à aiguilles. Zéro tache de colle... mais je ne me suis pas couchée très tôt !

The pictures are slightly yellowish, the electricity fairy does not provide the best of lights, I toiled late into the night yesterday, and went to work half-asleep this morning. You remember my pink version of BBD's "A Small Token" and my wondering how to finish it. I didn't want to leave it for too long though, so last night, while Doctor House was giving his team a hard time, I put together a needle-holder. I am quite pleased with the result - not one single glue stain - but I went to bed much too late !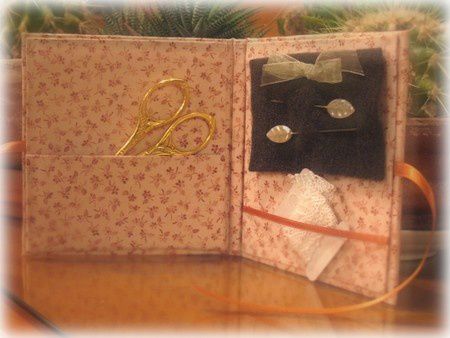 Je pense déjà à une nouvelle version d'un petit nécessaire à couture, mais ce n'est pas pour tout de suite (le temps, mes amies, le temps me manque...)
I have some further ideas for a more sophisticated sewing necessaire, but don't expect it too soon - time is the issue...