Fan de ... / Addicted

Ca y est, l'abécédaire Blackbird Designs "Petites Lettres Rouges" est accroché dans la cage d'escalier.
The Blackbird Designs sampler "Petites Lettres Rouges" is at last hanging in the staircase.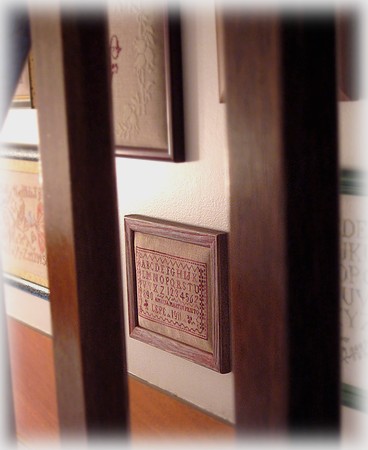 Brodé à la mémoire de la Tita Amalia, qui fut déposée à Lepe par une cigogne en janvier 1911 et nous a quittés en avril 2009, au moment même où Alma et Barb nous proposaient leur petit jeu.

Stitched as a tribute to Auntie Amalia, who was delivered by a stork in January 1911 and passed away in April 2009, just when Alma and Barb were kindly organising their first draw.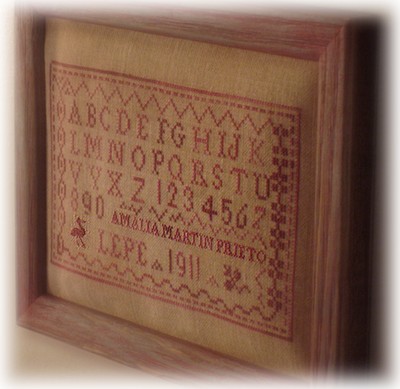 Il est juste à côté de mon premier ouvrage Blackbird Designs - c'est au milieu des grilles de la Khôpine que j'avais découvert cette merveille, et c'est ainsi que je suis devenue une aficionada. Ouvrage interprété très, très, librement quant aux couleurs (cotons Stef Francis).

It hangs next to my first ever Blackbird Designs piece ; I discovered the pattern while going through The Friend's pile of charts, and the addiction started then and there. For this sampler, I have used my own selection of Stef Francis cottons, greatly differing from the recommended list.