With Needle and Thread
Voilà longtemps que j'avais envie de broder ce coussin à épingles, extrait du livret "With Needle and Thread" de Blackbird Designs. Il va sans dire que je n'ai absolument pas respecté les couleurs préconisées, mais ai pioché dans mon stock de cotons et soies Stef Francis - délaissé depuis quelque temps.
When the Blackbird Designs booklet "With Needle and Thread" came out and I bought, I immediatly knew I would stitch the pin pillow one day. Obviously, I haven't stuck to the recommended colours, but picked my own combination of cotton and silk threads in my long-neglected Stef Francis stash.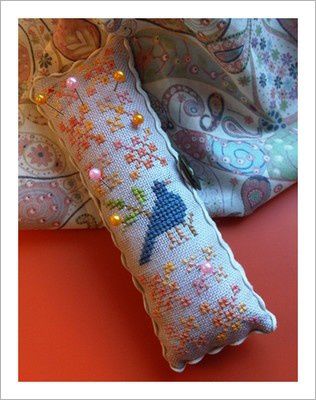 Petit cadeau Made in France réservé à l'une de mes amies britanniques, qui a courageusement décidé de venir affronter la foule de l'AEF.
It is a small French-made present for one of my British friends who has decided to come and brave the crowds at the AEF fair.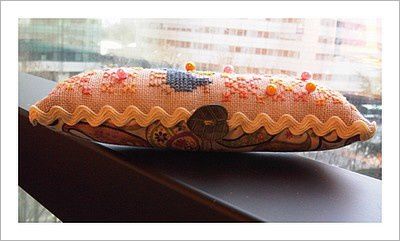 Au dos, du Tana Lawn de Liberty - l'imprimé "Mark" dans une interprétation pastel récente. Ma source d'approvisionnement est en Belgique, voilà qui fait de ce pinkeep un ouvrage bien international !
At the back, a new pastel interpration of the Tana Lawn Liberty "Mark" print. Imported from Belgium. This pinkeep is truly international !