Souvenirs de vacances en avance / Holidays' Advanced Memories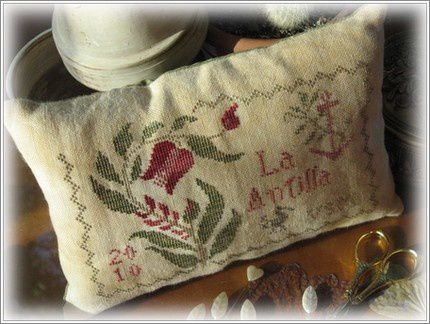 Inspiré du joli modèle "Sweet Alabama" dessiné par Barb de Blackbird Designs, qui s'est elle-même inspirée du modèle "Pink Flower'" créé par The Workbasket (détails ici). Ce modèle marque le souvenir de vacances en Alabama. L'Alabama, pour moi, ce n'est guère qu'un nom avec une jolie sonorité, mais les descriptions qu'en font ces dames me rappellent la côte Atlantique andalouse. Alors ni une ni deux, je me suis emparée de mon aiguille et j'ai brodé un petit coussin pré-vacances. Et puis dans ma tête résonnait la rime "sweet alabama", sweet baccalauréat"... Vous comprendrez :-).
Inpired by pretty "Sweet Alabama" designed by Barb of Blackbird Designs, who was herself inspired by the The Workbasket's "Pink Flower" pattern (details here). This model commemorates holidays spent in Alabama. Alabama doesn't ring any bells for me, although I like the phonetics, but the BD ladies' description of the place reminds me of the Atlantic coast in Andalucia. I promptly took needle and threads out and stitched a pre-holiday pillow. And while I was stitching, this rhyme kept ringing in my ears : "Sweet Alabama, Sweet Baccalauréat"... Some will understand ;-).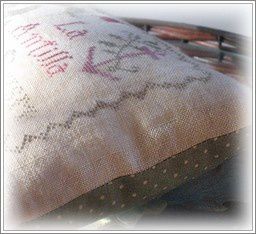 Pour le dos, j'ai utilisé du tissu Moda à pois, dans les tonalités exactes de la toile subtilement marbrée utilisée pour broder le motif (pas de référence, mais merci Carol !) et des fils Art et Weeks Dye Works piochés dans mon stock (Raspberry Parfait, Red Pear, Kudzu and Chamomile).
For the back I used some dotted Moda fabric the colours of which exactly match the subtle overdyed tones of the linen used for the front (Carol's gift, thank you !) and the Gentle Art and Weeks Dye Works threads picked in my stash ( Raspberry Parfait, Red Pear, Kudzu and Chamomile).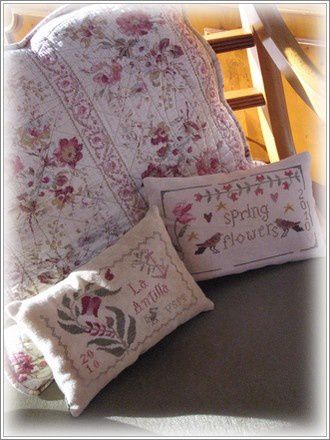 Le coussin a rejoint son cousin né au printemps. Quand il y en aura une multitude, dans dix ans, dans vingt ans, j'achéterai un fauteuil tout exprès...
The pillow is now resting with its cousin that saw the light of day in spring. When there is plenty of them, in ten or twenty years, I shall buy a special armchair for them...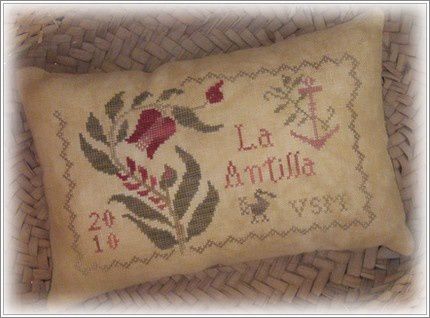 Le compte à rebours a commencé... dans une semaine à cette heure-ci, je serai à La Antilla !
The countdown has started... In a week's time, I'll be in La Antilla !