SEW VALENTINE
Février, avec la St Valentin et le salon L'Aiguille en Fête qui se profilent... A cette occasion, CarolR a créé un motif à broder comme vous l'entendrez pour marquer le coup. Ma version, en 1*1, sur de la toile 12 fils, avec des fils de soie.
Here comes February, with Valentine's Day and the Paris Aiguille en Fête show that will soon be upon us. CarolR has created a small pattern for the occasion. My version, stitched 1*1 with silk threads on 34-count linen.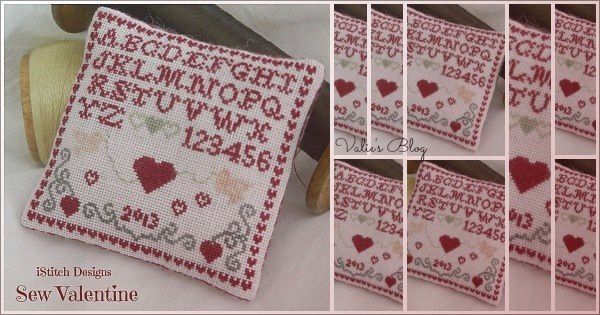 La grille est en vente sur le site iStitch Designs : http://istitchcharts.blogspot.fr/. J'ai choisi une finition en coussinet, avec des coutures extérieures apparentes, réalisées avec le fil Soie d'Alger du Ver à Soie utilisé pour l'alphabet. J'aime broder avec ce fil, il ne se noue ni s'entortille et glisse avec bonheur à travers la trame, sans s'échapper de l'aiguille.
The chart is available here : http://istitchcharts.blogspot.fr/. I finished the model into a small pillow, with external seams sewn with the Au Ver à Soie Soie d'Alger silk thread used for the alphabet. I really enjoy stitching with Soie d'Alger silk, it doesn't twist nor knot and slides easily through the linen without slipping away from the needle.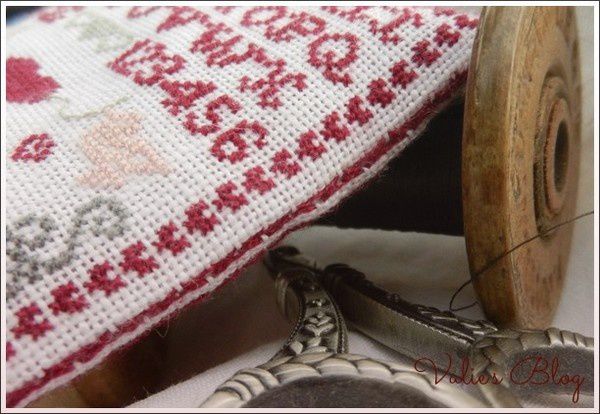 Bons préparatifs !
Have fun getting ready for the day !