Sew Quaker
Avec chacune des grilles de CarolR que je brode, je tente quelque chose de nouveau. Pour Sew Quaker, j'ai visé le modèle réduit en brodant 1 * 1 sur de la toile Belfast de Zweigart, couleur gris chromé marbré, avec un dégradé de cotons DMC (roses 3607, 3608 et 3609). Je l'ai transformé en pique-épingles de 8cm * 5cm - on a toujours besoin d'en avoir sous la main, n'est-ce pas ?
With each one of CarolR's samplers that I stitch, I try something new. I opted to go small with Sew Quaker, which I worked 1*1 on Zweigart Belfast Vintage Marble linen, with three shades of DMC pink floss (3607, 3608 and 3609). I finished it into a pin pillow (8cm * 5cm) - always useful, isn't it ?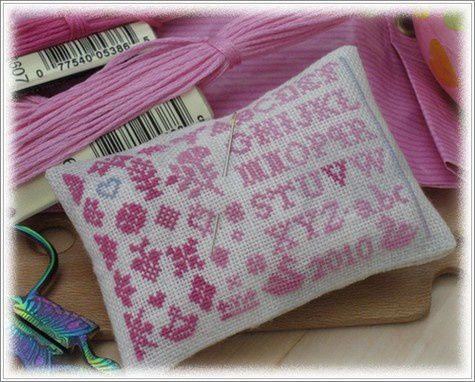 Il fallait bien du rose pour oublier toute l'eau qui est tombée du ciel pendant le week end de Pâques...
Pink was a must to forget the miserably wet and cold weather over the Easter week end...