Une envie de plage / Craving for the seaside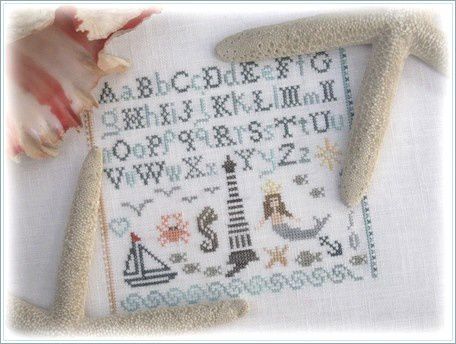 J'ai brodé mon irrésistible envie de vacances en bord de mer dans cet abécédaire [Sew Nautical] créé par CarolR. Je rêve de plage de sable, de soleil, de bleu. Normalement, dans deux mois et demi, j'y serai... Je n'ai pas prévu de rencontrer de sirène, mais sait-on jamais ?
I have stitched my craving for a seaside holiday in this small sampler [Sew Nautical] designed by CarolR. I am dreaming of sandy beaches, sunshine and blue skies. If everything goes according to plan, the dream will come true in 2 and a half months. I don't think I'll meet mermaids, but who knows ?
Liste des fils utilisés / List of threads used
(Gentle Art >GA, Weeks Dye Works >WDW, Crescent Colours >CC, House of Embroidery >HoH)
GA Tropical Ocean : lowercase letters, waves, heart and right hand-side border / minuscules, vagues, coeur et bordure droite
GA Old Plue Paint : mermaid's tail, seagulls and year / queue de la sirène, mouettes et année
GA Brethren Blue : boat / bateau
GA Butternut Squash : sun and mermaid's crown / couronne de la sirène et soleil
GA Melon Patch : crab / crabe
GA Aged Pewter : fish / poissons
GA Tin Bucket : lighthouse and anchor / phare et ancre
WDW Teal Frost : uppercase letters and right hand-side border / majuscules et bordure droite
WDW Conch : starfish and left hand side border / étoile de mer et bordure gauche
WDW Pelican Grey : seahorse / hippocampe
WDW Cocoa : mermaid's hair / chevelure de la sirène
CC Dulce de Leche : mermaid's body / corps de la sirène
HoH Papaver : flag / drapeau