Sauvetage // Rescue Operation
J'ai finalement fait preuve d'obstination...
I can be obstinate...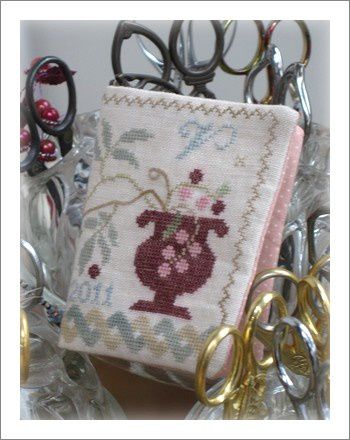 J'ai pris en vrac tous les conseils qui m'ont été prodigués, rinçage à l'eau froide, lingette anti-décoloration, savon doux, teinture au thé... j'ai fait un mix de tout ça, en y rajoutant un petit passage au micro-ondes, et si la toile a perdu de sa fraîcheur et acquis un petit look "vintage", j'ai tout de même poussé l'exercice jusqu'au bout et me voici propriétaire d'un carnet à aiguilles de plus, j'en avais besoin, c'est sûr, autant que j'ai besoin de nouveaux ciseaux.
I decided to combine all the good advice left in the Comments section, ie cold water rinse, anti-transfer sheet, mild soap, tea staining... plus my usual micro-wave touch. As a a result, the linen looks a bit worn - let's say it has acquired a vintage look - but it was good enough to go on with the initial objective, and create one more needlebook - I certainly needed one, just as I need new scissors.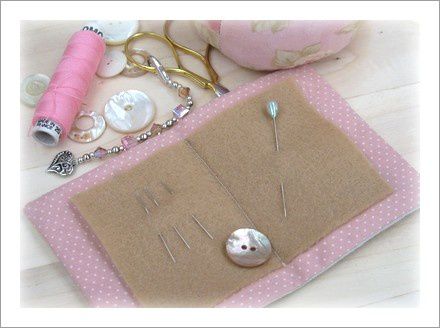 Merci pour les encouragements à ne pas laisser tomber.
Thanks for the encouragement not to drop the matter.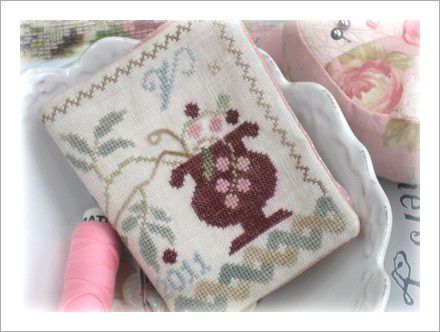 J'ai d'abord eu l'intention de doubler le lin avec un coupon de tissu "French Quarters", parce que les couleurs de l'imprimé rappelaient étonnamment bien celles de la frise, mais le rendu s'est avéré assez décevant.
I first intended to line the needlebook with a piece of "French Quarter" fabric, as the print matched the colour of the frieze to perfection, but eventually decided against it, it somehow didn't look right.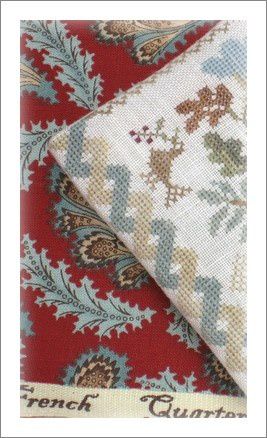 Je me suis rabattue sur du rose, une fois de plus ! Mais pour mon tissu rouge, j'ai déjà une autre idée en tête...
It had to be pink after all - how very surprising ! But as far as the red print is concerned, I already have a use for it...