Retour de l'AEF / Back from the fair

Aujourd'hui c'est la St Valentin, et je reçois le plus merveilleux des cadeaux : un réveil tardif ensoleillé ! Il y a de la neige qui colle en une fine couche gelée sur le sol, mais il ya du soleil surtout, du soleil !
Today is Valentine's Day, and the greatest present is to wake up late to a sunny morning. The snow might be sticking to the ground in a thin frozen crust, but the sun is out, at last !




Hier, j'ai arpenté pendant presque 6 heures les allées de l'Aiguille en Fête. J'avais organisé mon parcours du combattant, et dressé une liste des exposants à qui je voulais rendre visite, et j'ai eu le plaisir d'être seule sur le stand de Monsieur Roulot, notre cisellier nogentais favori !
Yesterday I walked for almost 6 hours the alleys of the Aiguille en Fête needlework fair in Paris. I had prepared an itinerary - almost army-like - and made a list of the exhibitors I wanted to visit and thus managed at one point to be on my own at Mr Roulot's stall. Mr Roulot, a retired scissor maker from the Nogent area, still crafts wonderfully sharp scissors and is very much a pet of the stitching community in France.

Je suis rentrée fatiguée et le porte-monnaie léger : vous verrez pourquoi sur les photos suivantes.
I came back tired and with an empty purse : see why on the next pictures.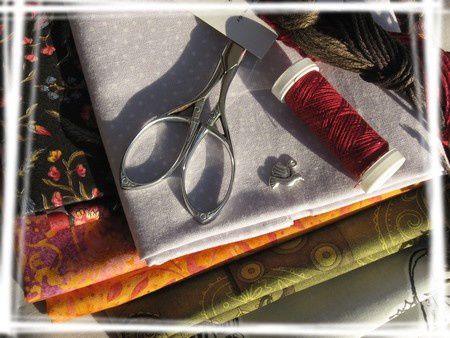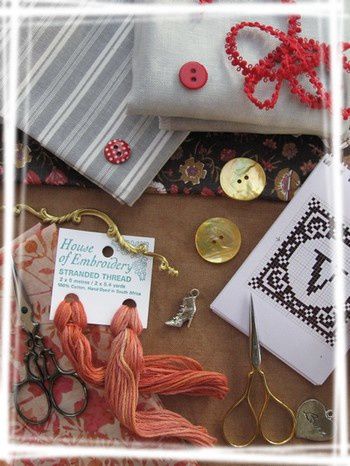 Il faudra sans doute un peu beaucoup de temps avant que je ne passe à l'étape transformation, pour l'instant je me contente de contempler mes trésors et de me réjouir !
It will probabably take some much time before I make anything out of all this, right now I am just contemplating and rejoicing in the loot !

Mon cadeau de la St Valentin reçu au petit déjeuner : un pain en forme de coeur transpercé par une flèche de Cupidon...
My Valentines gift received a breakfast : a loaf of bread fresh from the baker's, in the shape of a heart pierced by Cupid's arrow...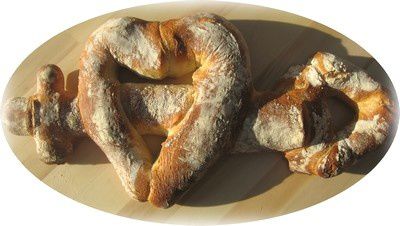 EDIT :
Photo d'une merveilleuse promenade dans les bois d'à côté l'après-midi de la St Valentin.
A picture of a very enjoyable afternoon walk in the nearby woods on a sunny Valentine's Day.