Rebekah et la St Sylvestre // Angels' Party
Il était une fois...
... une brodeuse nommée Doris, rencontrée sur le Net. Maman d'une petite Rebekah, dont le passage sur terre fut trop court. Quand elle a disparu, l'équipe Ewe & Eye & Friends, avec qui collaborait Doris, a créé en sa mémoire un sampler spécial, appelé "An Angel for Rebekah".
Rebekah aurait eu 21 ans cette année, et pour marquer le coup, j'ai décidé de broder le sampler... Mais j'ai tardé, la date de son anniversaire est passée... Alors, j'ai un peu transformé l'objet de l'ouvrage, et j'ai imaginé Bekah faisant la fête avec les anges (partying with angels) le soir de la St Sylvestre (ils doivent réveillonner comme nous, non ?)... Et voilà, j'ai mis le dernier point sur la toile ce matin, et maintenant je vais me préparer à mon tour, me faire belle (si, si) pour la soirée.
J'entrerai en 2013 avant Doris, décalage horaire oblige (entre la France et le Colorado). Chez les anges, je ne sais pas quand sonneront les 12 coups de minuit. Laissons les détails techniques de côté... que la nouvelle année démarre pour tous dans les réjouissances !
Once upon a time...
... there was a stitcher named Doris, whom I met on the Net. Mom to a little Rebekah, whose life on earth was much too short. When Rebekah went, designers Ewe & Eye & Friends, with whom Doris used to work, created a special pattern called "An Angel for Rebekah".
Rebekah would have been 21 this year, and I thought I'd stitch the sampler in her memory... But then, I lagged behind and her birthday came and went, and no sampler... I thus decided I would associate it with Bekah partying with angels on December 31st (they must have a party like we do, mustn't they ?)... So I put the last stitch in this morning, and now I am getting myself ready to party tonight too.
2013 will be upon me before it is upon Doris, due to the time difference (France vs. Colorado). No clue as to when the clock will strike midnight in angels' heaven. But it does not matter... may the New Year start with style and fun for all !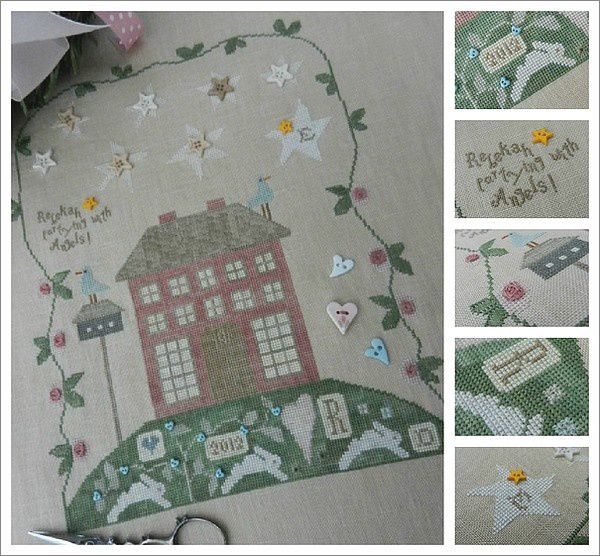 Il me reste à encadrer l'ouvrage et l'accrocher au mur... en souvenir de Rebekah !
I yet have to frame the piece and hang it on the wall... in Rebekah's memory !