Quelque chose de bleu... / Something Blue...
Une de mes grandes amies m'a prêté la grille Bluebird de Blackbird Designs. Bluebird, blackbird. Du bleu, du noir. Parfait pour une autre de mes grandes amies... Et voilà un petit coussinet confectionné à mon retour de vacances il y a deux mois déjà, avec du bleu, du noir et une pointe de mauve (soies Vikki Clayton). Deux petits boutons de nacre aussi - un brocanté, un tout neuf. Quand on y réfléchit, j'ai rassemblé dans cet ouvrage quelque chose de neuf, quelque chose de vieux, quelque chose de prêté, et quelque chose de bleu... Pourtant, pas de mariage dans l'air !
One of my dear friends loaned me the Blackbird Designs' Bluebird chart. Blackbird, bluebird. Black and blue. A perfect combination for another one of my dear friends... I made this little pillow upon my return to urban life 2 months ago, with blue, black and mauve silk (Vikki Clayton). I added a vintage mother-of-pearl round flower button and a brand new star-shaped one. Come to think of it, we have here something old, something new, something borrowed and something blue... Nobody is getting married, though !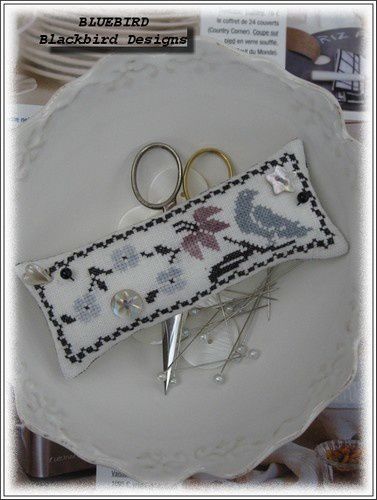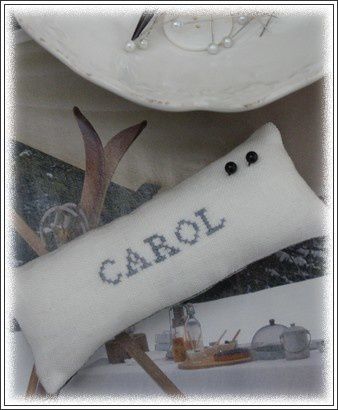 Les finitions des ouvrages de Carol - souvent de délicates miniatures - sont toujours impeccables. Il fallait donc que je m'applique à mon tour. J'ai souffert pendant que j'assemblais le recto et le verso du coussinet ! La toile de lin très serrée ne m'a pas simplifié la tâche ! Mais le résultat est satisfaisant - ouf - et vaut bien tout ce que j'ai pu marmonner pendant l'exercice ;-)
Carol always finishes her projects - quite often dainty miniatures - to perfection. I knew that my work had to be as neat as possible and I did suffer while assembling the front and the back of the pillow ! The very tight linen didn't help ! However the result is alright - what a relief - and worth all the swearing and muttering ;-)