Quand dehors il neige.../ On a snowy day...
Quand dehors il neige... c'est le moment ou jamais ...
On a snowy day... it's now or never...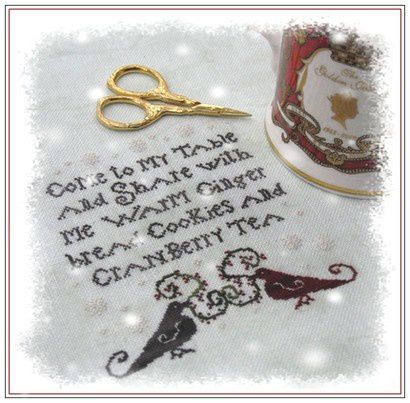 Modèle "Christmas Tea" de Plum Street Samplers,
brodé sur toile Zweigart Belfast vert d'eau marbré avec des fils Belle Soie de Crescent Colours.
"Christmas Tea" by Plum Street Samplers,
stitched on Zweigart Belfast Vintage "Antique Green" with Crescent Colours Belle Soie silk threads.

Ciseaux "Elizabeth I" de Kelmscott Designs
Tasse Elizabeth II, souvenir du Jubilée royal célébré en 2002.
Après (ou avant déjà ?) la pinkeemania, la Britishmania...
Kelmscott Designs "Elizabeth I" scissors,
"Elizabeth II" cup, designed for the Golden Jubilee celebrated in 2002.
Pinkeepmania followed (or preceded by ?) Britishmania...