Préparatifs / Getting Ready
Cette année encore, je me suis engagée à confectionner des bricoles pour le Marché de Noël auquel j'ai déjà participé en 2009 et 2008. Le produit des ventes est destiné à des oeuvres caritatives. En 2009, j'avais brodé un coussin à suspendre, qui était vite parti.
I have committed myself to participate in the 2010 edition of the Christmas Fair which I had already supplied with hand-made items last year and the year before. Proceeds are for charity. In 2009, I had stitched a door knob pillow which had been bought right away.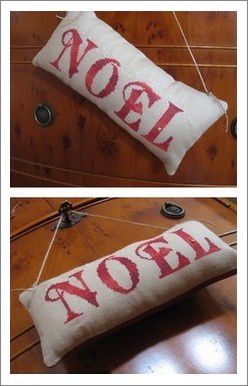 Du coup, dans l'espoir d'un même succès je récidive cette année avec un modèle de Jenny Hoffman, Christmas Cupboard Keep, brodé avec les fils de soie Poinsietta Red de Gloriana et Collard Green de Belle Soie sur toile Gander.
I hope the model I stitched last week end will be just as successful, it is a pattern by Jenny Hoffman, Christmas Cupboard Keep, stitched with Gloriana Poinsietta Red and Belle Soie Collard Green silk floss on Gander linen.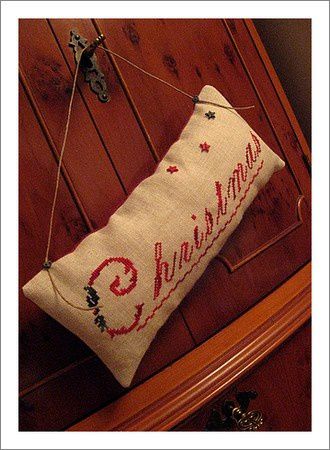 J'envisage de broder un autre coussinet du même genre, mais cette fois, et c'est un peu iconoclaste j'en conviens, je voudrais tenter du rose... La suite bientôt.
I want to stitch another pillow of the same kind, however this time, I'll be a little bit of an iconoclast and try pink... Let's see.