Papillon... vole ! / Butterfly in the sky
Rouge Petit Coeur, ce fut ma grande découverte du salon MCI- Créations & Savoir Faire à l'automne dernier. Parmi les merveilles exposées, j'ai déniché un superbe papillon gris-bleuté, j'ai su tout de suite que je l'offrirais à une dentellière de mon entourage. Il fallait d'abord que je le mette en scène, et c'est chose faite, il est maintenant prêt à s'envoler vers sa destinataire.
Rouge Petit Coeur was the finding of the year when I visited the MCI craft fair back in November. Among the many treasures on display, I spotted a beautiful blue-grey butterfly which I immediatly knew whom I would give it to : my lace-making auntie. I first had to "stage" it, which I finally did last Sunday, it is now ready to fly away to its future owner.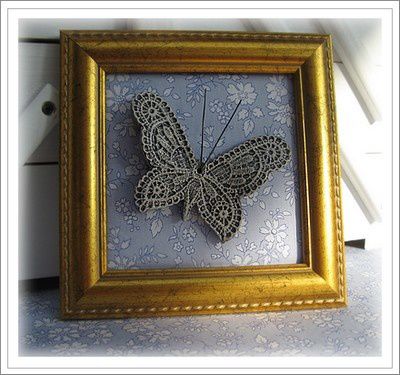 Le fond du cadre est en molleton rigide recouvert de tissu Liberty "Capel" bleu, le papillon - qui est légèrement concave pour donner du mouvement aux ailes - est fixé par quelques points avec du fil à coudre, et les antennes sont des tiges de bijouterie créative recyclées pour l'occasion.
The background is stiff interfacing covered with blue "Capel" Liberty Tana Lawn, the butterfly - which has a sligthly curved shape as if actually flapping its wings - is attached with a couple of stitches and the antennas are headpins, the same that are used in creative jewelry making.