OUTRE-MANCHE // ACROSS THE CHANNEL
Et hop, un petit tour par Londres, pour marquer le coup du 60ème anniversaire d'une personne n'ayant encore jamais mis les pieds en Bretagne-Grande : assez vite brodée, plus lentement finie, une carte d'anniversaire en format étiquette, arborant un drapeau britannique aux couleurs de mes récentes vacances corfiotes (le vert turquoise de la Méditerranée, le rose tendre des méduses locales...) et une eau de toilette royale - Pluie à Balmoral - dénichée chez Anthropologie sur Regent Street lors de ma dernière excursion outre-Manche, à la Saint-Patrick.
Hopped to London last week end, on the occasion of a relative's 60th birthday (whose first trip to Great Britain it was) : I stitched (rather quickly) a birthday card of a kind and finished it (rather slowly) as a label. On the front side, it has a Union Jack in alternative colours reminding me of my recent holidays in Corfu - turquoise green for the Mediterranean sea and pale pink for the pretty local jellyfish... The "card" came with a small bottle of Balmoral Rain, an Eau de Toilette found at the Anthroplogie Regent Store when I last crossed the Channel, on S
t Pat's Day.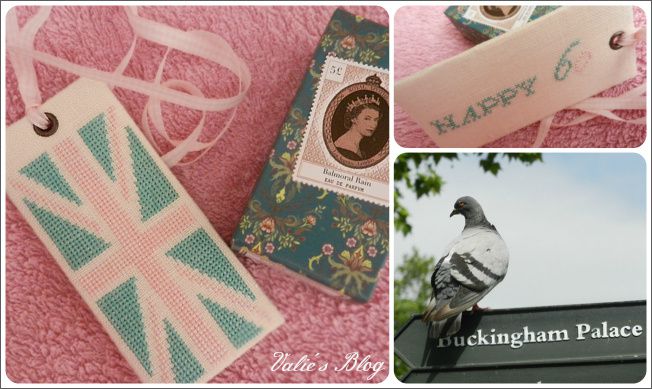 La météo fut clémente, et j'ai découvert de nouveaux quartiers, qui me donnent envie de remonter très vite dans l'Eurostar. En attendant, je brode à nouveau un drapeau, dans des couleurs plus traditionnelles.
We had nice weather (i.e. no rain) and I discovered new boroughs which made me want to board the Eurostar and go back very soon. In the meantime, I am stitching yet another flag, however in more traditional colours.