Finitions / Finishing
Comme je ne suis pas une championne de la finition (la plupart de mes ouvrages atterrissent dans un carton à dessin rangé sur un rayonnage obscur), je suis toujours ravie de recevoir de charmants petits objets , brodés certes, mais transformés surtout ! Je fus récemment comblée dans ce sens en recevant d'abord une jolie boîte doublée de soie (cadeau de Noël livré avec un peu de retard...) ornée d'un motif Blackbird Designs et contenant deux accroches aussi mignonnes l'une que l'autre :
As I do not excel at finishing (most of my projects end up in a drawing portfolio on a shelf in a dark cupboard), I am always delighted to be presented with stitched pieces turned into pretty decorative items ! I was lucky to receive only very recently two great gifts, one being a belated Christmas present in the shape of a silk-lined tin box covered with a Blackbird Designs motif and containing a dainty thread tag and a sweet scissor fob - can't say which one is lovelier than the other :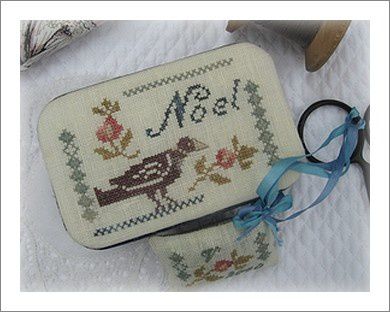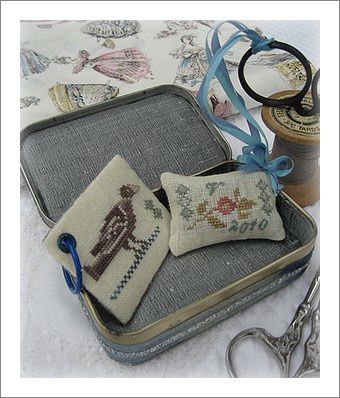 Le même jour, Carol m'offrait un biscornu à la géométrie parfaite, un de ces petits ouvrages à la finition savante dont elle est la seule à détenir le secret, ça en est presque rageant ! Mais c'est beau, tout simplement.
On the same day, Carol gave me a beautifully assembled biscornu; only she knows how to finish these rather technical pieces to perfection. Slightly maddening, you know ! Very pleasant to the eye too.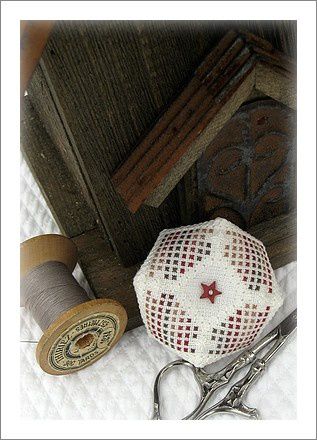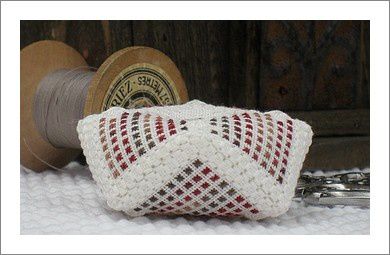 Et comme je n'aime pas vraiment (re-)coudre les boutons, je n'ai pu que m'extasier devant la peine prise par la (très jolie) jeune fille qui m'a offert ce coeur de feutrine décoré d'une multitude de minuscules boutons :
And as I am not really keen on sewing buttons, I could only be admirative of the efforts made by a (very pretty) young lady who gave me this felt heart sprinkled with a multitude of miniature buttons :