Mésaventure / Misadventure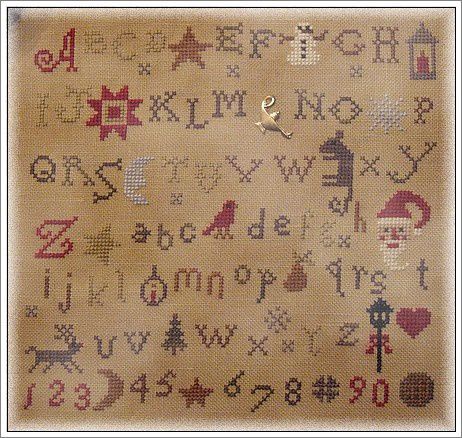 Et voilà, mon abécédaire de Noël est terminé (mais pas finitionné). En retard ou en avance, à choisir. Pour celles qui ont la grille (Yule Sampler, de The Primitive Needle), vous constaterez que mon ouvrage est truffé d'inexactitudes par rapport à l'original, mais la toile de fond était d'un tissage tellement serré et raide, qu'il n'était pas question que je défasse la moindre petite croix mal placée... A la place du motif "coeur sur la main" entre les lettres M et N, j'ai préféré fixer une petite lampe à huile magique, j'ai trouvé qu'elle s'insérait tout aussi bien - sinon mieux - dans le décor.
My Christmas samplar is completed (but not finished). Early or late, you choose. If you own the chart (A Yule Sampler by Primitive Designs), you will see that here and there, my work is not strictly true to the original design. The linen I used was altogether too stiff and tighly wowen to even start contemplating unpicking errors... Instead of the heart-in-hand motif between the letters M and N, I have added a magic oil lamp, it fits in just as nicely - if not better.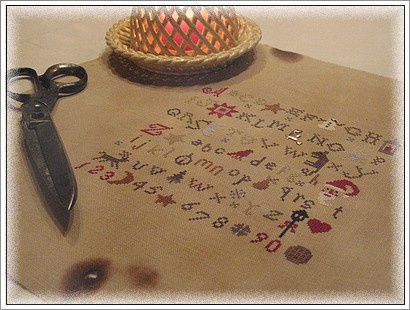 Parlant de toile, il m'est arrivé une drôle de mésaventure. Pour donner du relief à sa couleur verveine longtemps infusée, un peu trop terne à mon goût, j'ai décidé de la vieillir avec du brou de noix. J'en garde en permanence une décoction dans mon réfrigérateur. Jusqu'ici, pour fixer mes teintures, je passais mes toiles au micro-ondes... généralement avant de les avoir brodées. Cette fois-ci, j'ai brodé d'abord, puis décidé de teinter la toile (pas très malin, je le reconnais). Il est indiqué sur les moulinés de soie de Vikki Clayton (utilisés à la place des Crescent Colours préconisés) que leur couleur n'est pas grand teint. Donc, pour éviter que les fils ne déteignent, j'ai tamponné la toile avec un coton imbibé de brou de noix, puis l'ai passée au micro-ondes, en répétant l'opération plusieurs fois de suite, très rapidement... Résultat, la toile a commencé à cuire, voire à brûler sur les bords ! Ce sont les taches brunes (et le trou !) qu'on aperçoit sur la photo. Par chance, les fils se sont bien tenus, sauf le rouge, qui a laissé de très très légères auréoles, et le motif au centre n'a pas été brûlé. Il s'en est fallu de peu...
Now, the misadventure. As I didn't quite like the rather dull appearance of the linen (an unexciting dark herbal tea colour), I decided to give it a distressed look by staining it with walnut ink. I alway keep a little jar of the brew in my fridge. So far, when dyeing linen, I have always fixed the colour by giving it one quick turn in the microwave... before stitching. This time, I stitched half of the pattern first, then decided to dye the linen (not the cleverest of ideas, I agree). As Vikki Clayon duly warns that her stranded silks (which I used as an alternative to the recommended Crescent Colours floss) are not colourfast, and should thus not be soaked in water, I instead dabbed at the linen with a cotton pad dipped in walnut ink, then quickly put the linen in the microwave to dry, repeating the process several times... ending up with a piece of linen scorched on the outer edges ! See the brown patches (and the hole !) on the picture ? Luckily, the silks behaved perfectly, only the red bled very very slightly, and the pattern in the center was spared. It was a close call though...