Les couleurs du paon / Peacock Blues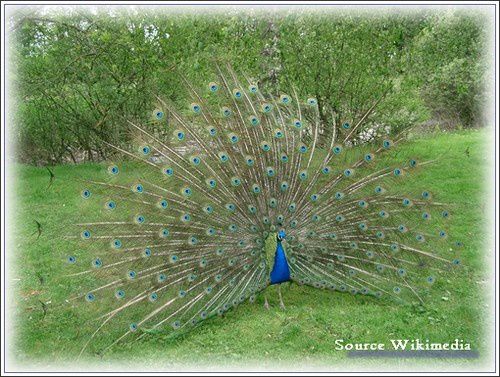 Je me suis inspirée de cette magnifique photo (trouvée ici) pour "colorier" le dernier abécédaire de CarolR. C'est avec cette image en tête que que j'ai choisi un assortiment d'échevettes de soies d'Alger quand je suis allée au Ver à Soie la semaine dernière. Au Bon Marché, j'ai ensuite déniché le coupon de tissu et les rubans destinés à une finition "pinkeep".
I have found inspiration in this beautiful photograph (found here) to "paint" CarolR's latest design. I had this picture in mind when I visited the Au Ver à Soie warehouse last week and picked a combination of Soie d'Alger skeins. I later bought the fabric and trims in the Au Bon Marché department store to finish the project as a pinkeep.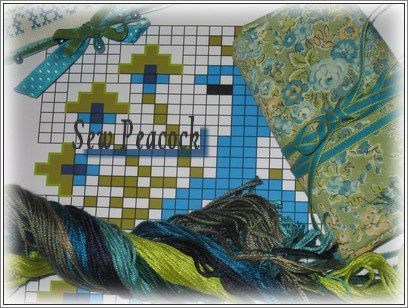 Je me suis bien amusée à reproduire les nuances des plumes de paons - j'avoue qu'il m'a fallu plusieurs essais... Pas vraiment mes couleurs habituelles...
I had fun trying to reproduce peacock feathers as precisely as possible - I must confess that I progressed by trial and error... Not really my usual colour palette...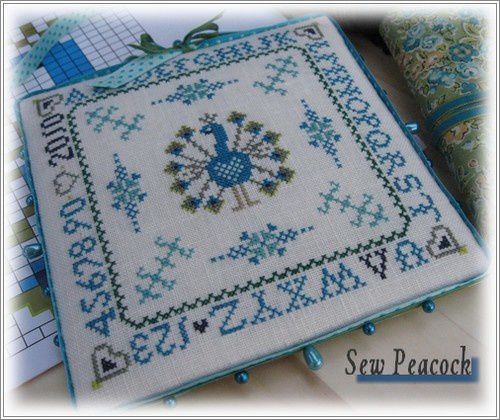 J'ai superposé deux galons pour la finition, ne sachant lequel des deux choisir ! Et si vous regardez bien, j'avais même une troisième alternative (le ruban qui entoure le coupon de tissu sur la photo n°2)...
Not knowing which one to choose, I put a blue trimmed green ribbon on top of a turquoise polka dot ribbon to finish the pinkeep. I even had a third choice (look at the ribbon that ties the piece of backing fabric on picture no. 2)...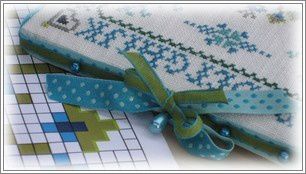 Carol nous promet un nouveau modèle pour bientôt... On attend avec impatience.
Carol has promised a new release soon... Waiting expectantly.