Légende // Colour Key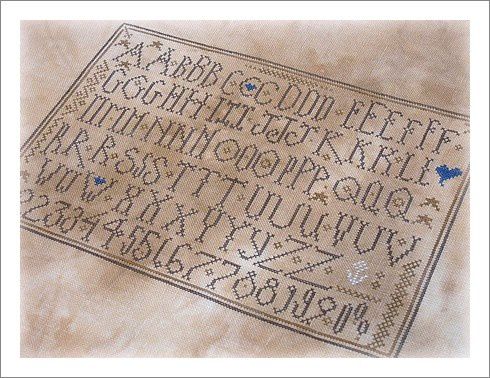 Cet ouvrage La-D-Da est le témoin de mes vacances en mer Egée. Au premier abord, ses couleurs et l'alphabet latin n'évoquent sans doute pas les îles Cyclades, il faut donc que je vous donne les clés de lecture !
This La-D-Da sampler is a reminder of my Agean holidays. As its colours and the Roman alphabet do not immediatly strike as being typical of the Cyclades islands, I must provide you with the key to read between the lines (crosses) !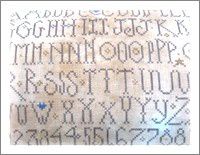 Certes, nous avons vu beaucoup de blanc et de bleu et de blanc encore...
White, and blue, and white again, certainly came in plentiful supply...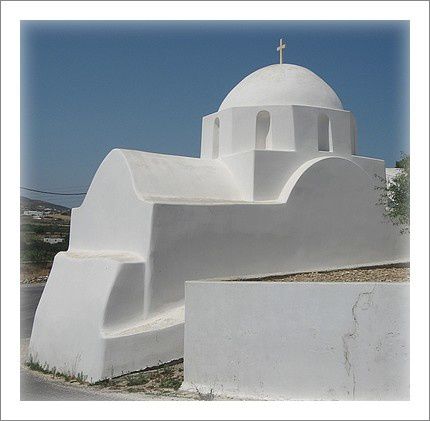 Sous le soleil, le rose des bougainvillées sur les murs tranchait de manière plus éclatante encore.
In the sunshine, the bright pink Bougainvilleas looked magnificent against the whitewashed walls.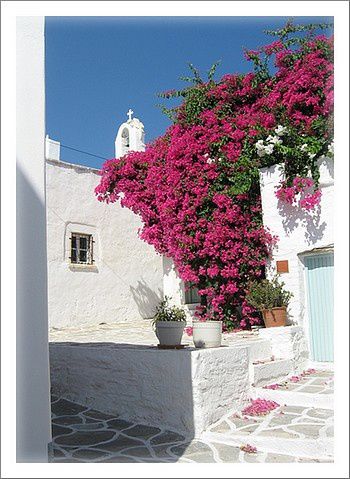 Il y avait aussi des scènes multicolores pour égayer le paysage...
There were some colourful scenes to be spotted here and there...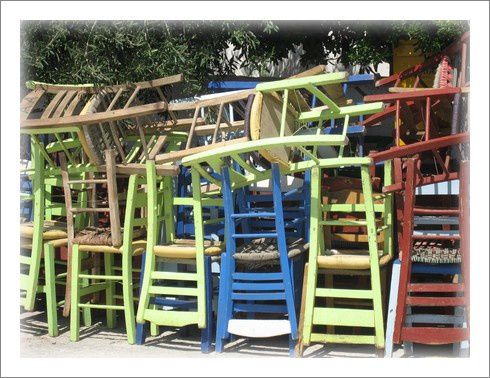 Mais pour mon ouvrage de vacances, ce sont les couleurs de l'arrière-pays, semblables à celles de l'Andalousie cuite par le soleil, qui m'ont inspirées :
However, for my stitching project, I let myself be influenced by the inland landscape, very similar to the hills and fields in sun-baked Andalucia :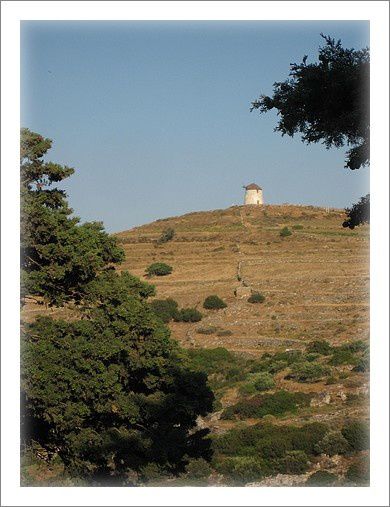 Et voilà le résultat :
And it came out like this :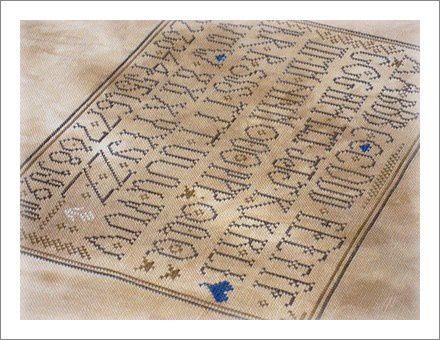 Avec une petite touche de bleu coupole tout de même !
I could not resist adding roof-blue accents !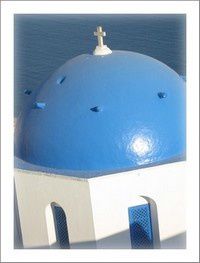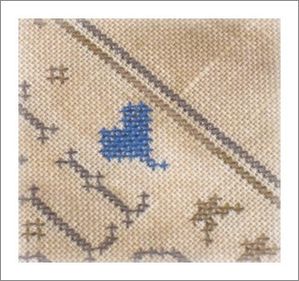 L'ancre marine - dont l'inclusion dans la grille originale est plutôt suprenante - s'est révélée tout à fait d'actualité, rappelant un motif de porte à Πρόδρομος, sur l'île de Πάρος (hé, hé).
The boat anchor - which is a bit of a surprise in the original pattern - turned out to be quite relevant after all, as it reminded me of a door decoration I saw in Πρόδρομος, on the Πάρος island (!).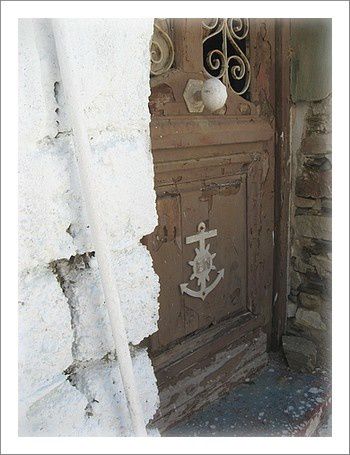 Et les caractères latins, me direz-vous ? Disons que les lettres doublées, triplées, comme un balbutiement, symbolisent toutes les difficultés que j'ai eues à déchiffrer le grec ! Promis, d'ailleurs, un petit coussinet va suivre bientôt, qui utilisera l'alphabet conquis pendant mon séjour !
What about the Roman alphabet, how does it fit the picture ? Let's say that the fact that the letters are repeated up to three times - like a stammer - symbolize the difficulties I was at first confronted with when trying to decypher Greek ! However, it's a promise, a little cushion with a Greek text will soon make an appearance !