L'ouvrage de janvier / January's Progress
Professionnellement, mon mois de janvier est un peu chargé. Je crains d'ailleurs que les choses ne s'arrangent pas forcément les onze mois suivants. On verra. J'ai quand même le temps de bricoler, quand la fatique ne me terrasse pas, mais les progrès sont lents. J'ai commencé "Alphabet Zoo", de Blue Ribbon Designs, sur toile Gander 19 fils, avec de la soie d'Alger. Après un début rempli de doutes, je finis par trouver amusant de remplir chacune des cases et je suis convaincue que le tout aura du charme - après tout, j'ai succombé pour la grille !
Job-wise, the month of January is a bit crowded. Unfortunately things might not get any better over the next 11 months. We'll see. I still find some time for handwork, when tiredness does not get the better of me, but progress is slow. I have started Blue Ribbon Designs' "Alphabet Zoo", on 48-count Gander linen, with AVAS Soie d'Alger silk thread. I was not too happy with the first stitches, then starting enjoying filling up the blocks, and I am sure that I shall eventually come to terms with the completed project - after all, I did fall for the pattern !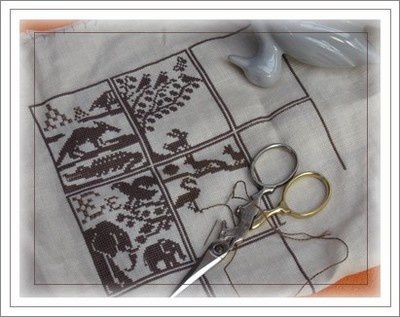 Comme c'est un abécédaire animalier, à chaque lettre correspond une créature ou plusieurs créatures : Eléphant pour E par exemple... Mais je suis perplexe quant à la lettre A : j'ai reconnu l'alligator, mais qui sont les deux autres z-animaux ? Est-ce que celui du milieu serait un aardvark - "oryctérope" en français ? Pour être honnête, je n'en avais jamais entendu parler avant de surfer sur internet... Et la bestiole en haut ?
As it is an Animal Sampler, each letter of the alphabet is illustrated with one or several creatures : an Elephant for E, or a Bunny for B... However, I am wondering and pondering regarding letter A : I did recognize the Alligator, but what on earth are the two other beasts ? Would the one in the middle be an Aardvark ? To be honest, I found the name searching the Net, I had never heard about it before... What about the animal at the top ?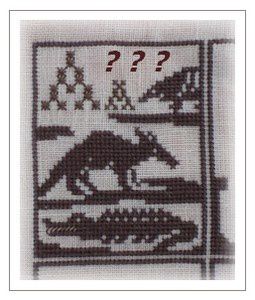 Toute aide sera la bienvenue. J'ai cherché l'inspiration dans ma collection de ciseaux, mais ma question est toujours sans réponse.
Any help will be welcome. I tried to find a clue in my scissor collection, but my question is still unanswered.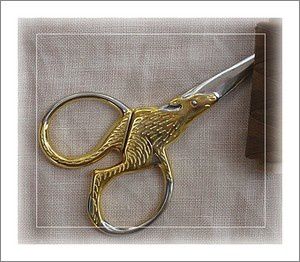 Interrogée elle aussi, Marie-Cookie est demeurée sans réaction - manifestement, aucune de ces créatures n'est de sa famille...
Cookie-the-dog's opinion was also sought, but I only got a crest-fallen look from her - seems like none of these creatures are related to her...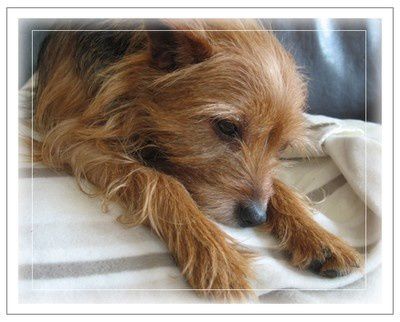 15H00 - ENIGME RESOLUE / 3:00 pm - MYSTERY SOLVED
Grâce à Nathalie de Jardin Privé (et si vous alliez faire un tour chez elle) : l'animal en question est un tatou - "armadillo" en anglais.
Thanks to Nathalie of Jardin Privé (go and visit her site) : the famous animal is an Armadillo.
************************************
Quand la toile de lin se fait trop serrée pour mes yeux fatigués, je tricote, des mitaines très basiques qui garderont au chaud, sans m'empêcher de manier l'aiguille, mes articulations un peu sensibles - c'est la saison et ... l'âge aussi, vous croyez ? Meuh nooooon....
When the linen suddenly blurs in front of my tired eyes, I knit, basic fingerless gloves that will keep my wrist and thumb joints warm while I stitch away; they are a bit sensitive - due to the weather and... old age, you say ? Certainly not !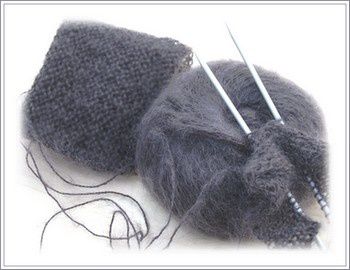 J'ai aussi développé une nouvelle manie, la confection de bracelets en biais Liberty, après qu'Isabelle m'en ait gentiment offert un et procuré l'adresse de ses fournisseurs d'apprêts. Après quelques prototypes, la phase industrielle ne saurait tarder à démarrer...
I have also developed a new mania, the making of Liberty bias tape bracelets, after Isabelle kindly gifted me a pretty one and told me where to find the crimp ends and toggle clasps. After making a few prototypes, I am ready to start mass production...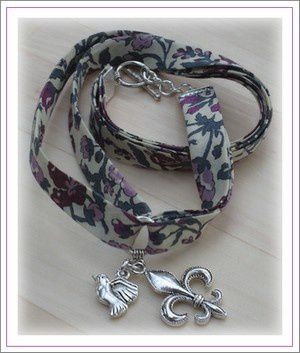 J'ai également brodé un petit motif naïf aux couleurs un peu fanées, Simple Bounty Cupboard Sampler de Heartstring Samplery, mais je l'ai abandonné avant de l'avoir terminé. Il se transformera sans doute en future suspension avec une finition façon pinkeep, sur support molleton rigide - mon chouchou.
I stitched a small primitive model too, in rather drab colours, named Simple Bounty Cupboard Sampler by Heartstring Samplery, but it still requires finishing. I will probably turn it into a door knob hanger, pinkeep-style using my favourite stiff interfacing.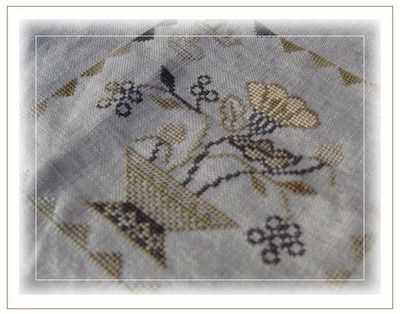 Finalement, il y a quand même de l'ouvrage dans l'air, même si c'est un peu décousu (sans jeu de mots).
I have been busy after all, even if my projects are a bit scattered (all my scattering moments are taken up with my needle...)