JA

JA. Jane Austen, bien sûr. Cette femme écrivain, qui a toujours son fan club de nos jours, ces fameuses "janeites" dont l'engouement m'intrique. Au nombre duquel compte une de mes amies britanniques. Pour laquelle j'ai récemment brodé un tableautin à poser dans un coin de son salon transformé en boudoir à la louange de Jane.
JA. Jane Austen, who else ? This English writer who still has a fan club today, the famous "Janeites" who so intrigue me. A friend of mine is one of them. I stitched the piece below for her to add it to the Jane paraphernalia she likes to collect.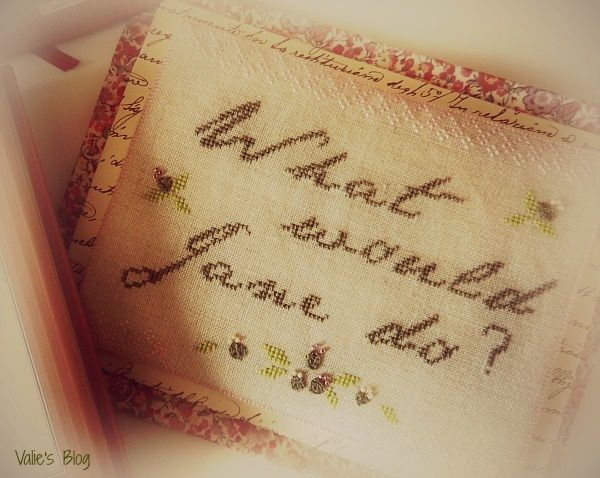 Irrésistible, non? Je suis tombée en arrêt sur ce modèle en farfouillant dans le site d'Isabella, la créatrice de The Primitive Hare. Je l'ai vu, commandé immédiatement, brodé un peu moins vite (hum, hum), monté sur un double fond de tissu Liberty (acheté à l'AeF) et papier à motifs "calligraphie" et expédié à Angela : il était fait pour elle !
Could not be resisted, could it ? I found the model by chance on Isabella s blog (The Primitive Hare) and it was love at first sight, ordered it straight away, stitched it (slower than anticipated) and finished it, "framing" it of sorts with calligraphy paper and a Liberty print (bought at the AeF show). And sent it to Angela, hoping she'd read between the lines (she did).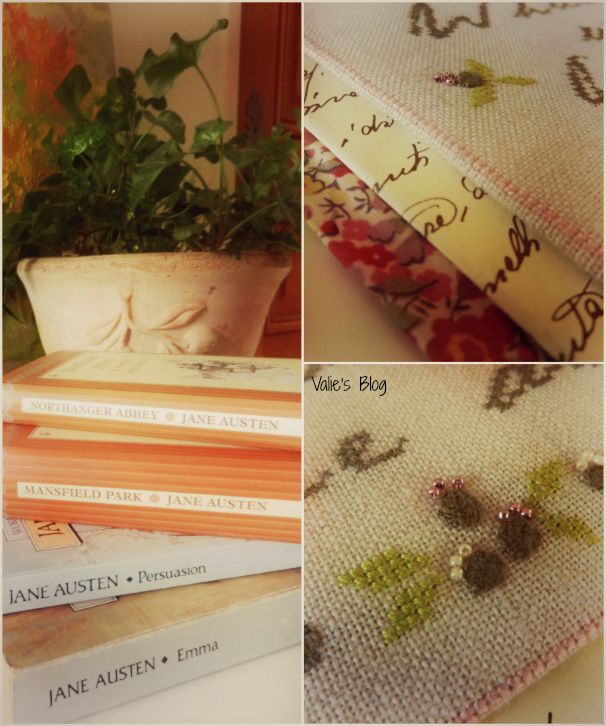 Je suis en train de relire Orgueil et Préjugés. En français cette fois. Dans la version originale comme dans celle-ci, j'apprécie l'humour. Darcy, pour moi, c'est Colin Firth...
I am currently re-reading Pride and Prejudice. In French, for a change. Very enjoyable, both in this and the original version. Every time Mr Darcy is mentioned, I see Colin Firth...