Hop, hop / Hoppity Hop

On se souviendra du lapin que j'avais omis de broder sur le coussin terminé le 20 mars pour fêter l'arrivée du printemps. Je le réservais pour annoncer Pâques et voilà qui est fait : un petit lapinou qui gambade joyeusement parmi les fleurs.
You may remember that I had chosen to leave the rabbit out when stitching the pillow finished on 20 March to celebrate Spring. I had meant to use the design for an Easter project and here it is : a happy bunny hopping among the flowers.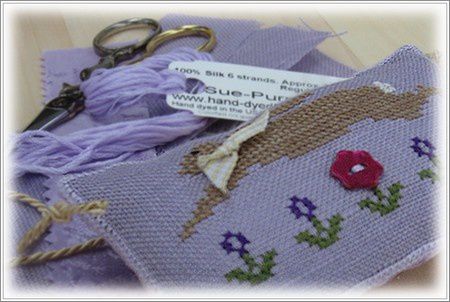 Un coupon de lin mauve, des soies moulinées Vikki Clayton, un bouton de nacre, un carré de tissu à l'imprimé joliment marbré, du ruban Vichy et hop, hop, le lapin de Pâques est en route !
Some mauve linen, stranded silks by Vikki Clayton, a mother-of-pearl button, a charm square with a pretty shimmering print, a piece of gingham ribbon and hoppity hop, the Easter Bunny is on his way !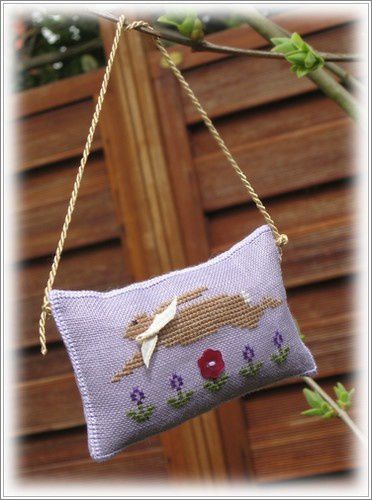 Apportera-t-il des oeufs en chocolat ?
Will it bring chocolate eggs ?