Gris tourterelle / Dove Grey
Une carte d'anniversaire en format pinkeep pour ma tante bien-aimée, dans des couleurs douces très proches de celles du modèle original, un Blackbird Designs bien sûr, toujours parfait pour marquer les grands événements.
A birthday card in the shape of a pinkeep for my beloved auntie, stitched with soft colours very similar to those of the original pattern, a Blackbird Designs, what else, their models always come in perfect for celebrations.
FARM HOUSE
-Anniversaries of the Heart Pattern 5-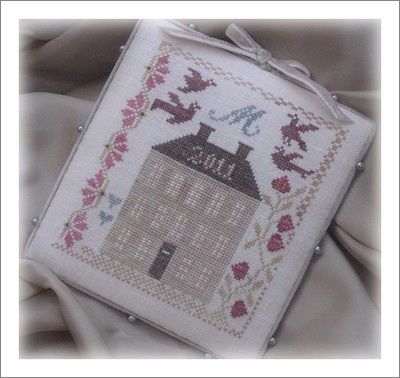 Finition sobre et chic avec du satin gris tourterelle au dos du pinkeep, et sur le pourtour, un ruban de velours épais et des épingles nacrées ton-sur-ton.
A classy finish with dove grey satin at the back of the pinkeep and tone-on-tone thick velvet trim and pearly pins all around.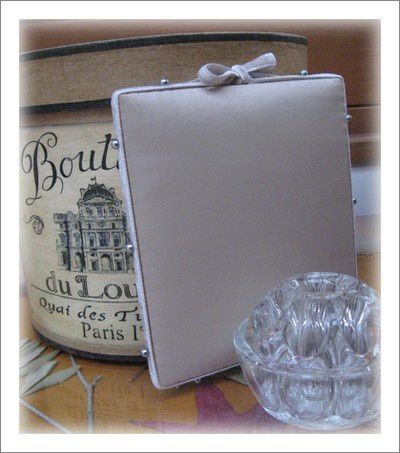 Petit cadeau livré en même temps que la "carte" : une pampille monogrammée réalisée par Rouge Petit Coeur, dans une jolie teinte violine...
A small present delivered together with the "card" : a monogrammed cupboard ornament created by Rouge Petit Coeur in a delicate shade of light purple...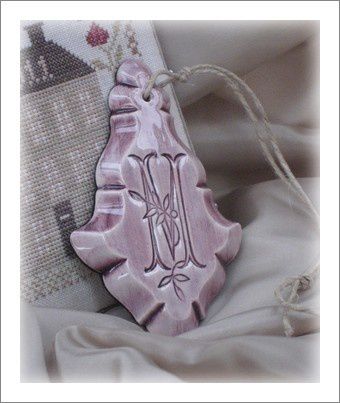 Hier, ce fut la fête à l'ombre bienvenue des arbres, juste avant que n'éclate dans la soirée un violent orage, ô combien apprécié : il n'avait pas plu depuis deux mois, et jamais eau tombée du ciel n'a été accueillie avec autant d'enthousiasme.
We celebrated on Saturday, seeking refuge from the heat in the shade of the trees; in the evening, a violent storm broke at last. It had not rained in two months and never before was a downpour welcome with such enthusiasm as it was yesterday.