Faire, défaire, refaire / Do, Undo, Re-do
Le mauvais sort s'est acharné sur moi la semaine dernière : Sew Sew, le dernier abécédaire en date de CarolR a fait de la résistance, refusant de se laisser broder... Ma sélection de couleurs - un mix de coton mouliné DMC et Atalie et de soie Vikki Clayton - s'est révélé décevante, et quand le choix a finalement été arrêté, après plusieurs "défaisages", les petites croix ne se sont pas placées là où elles auraient dû... Plutôt que de céder à la tentation et tout jeter à la poubelle, j'ai finalement conservé uniquement l'alphabet, brodé en ton sur ton sur la toile Vintage Maple Sugar (Lakeside Linen). Ca ne ressort pas vraiment, je sais.
Last week was a real disaster : Sew Sew, CarolR's pretty latest sampler, simply refused to be stitched... The colours I had selected - a mix of DMC and Atalie stranded cottons and Vikki Clayton silk - turned out rather inappropriate, and when I eventually found the right combination - after much unpicking - I started counting and stitching wrong, calling for more unpicking... Rather than giving up and throwing the whole thing away, I decided to salvage part of it and keep the letters only, stitched tone on tone on Lakeside Vintage Maple Sugar linen - they hardly show, I know.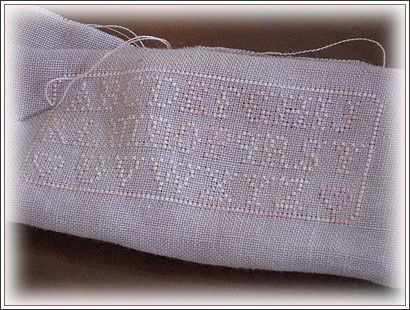 Il me fallait rattraper le coup à tout prix, et l'histoire ne finit pas si mal, puisque Sew Sew se retrouve dans un pinkeep porte-ciseaux - fabriqué avec beaucoup d'application, croyez-moi (la petite poche est molletonnée, pour le confort des ciseaux...).
So much erring had to be made up one way or the other, and things don't look so bad after all, as Sew Sew has inspired this pinkeep-cum-scissor holder - a lot of care went into the final product, believe me (the small pocket is padded, for scissors to feel more comfortable...).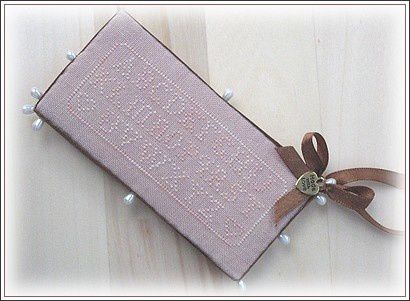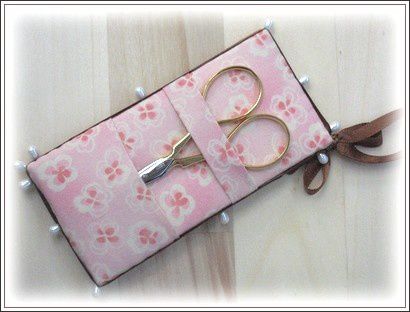 Et au final...
And at the end of the day...