Et de trois ! One, Two, Three !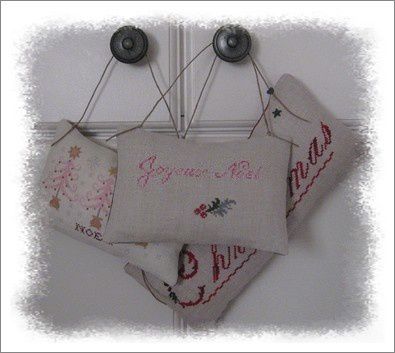 Pour pouvoir passer à autre chose - qui sera très différent, voici le troisième et dernier coussin de la série Marché de Noël, qui réconcilie très sobrement le rouge et le vert traditionnels avec un joli rose nuancé ("Watermelon" par Chameleon Threads Soie de Paris ).
Before I move on to something very different, here is the third and final hanger pillow in the Christmas Fair series, which very soberly combines the tradiditional red and green colours with a sweet overdyed pink hue ("Watermelon" by Chameleon Threads Soie de Paris).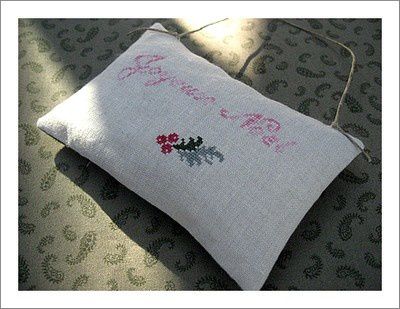 Motif tout simple inspiré par une grille tirée du livret "Joyeux Noël" de Blackbird Designs, brodé sur toile Zweigart Newcastle, coloris "Flax". Tissu vert à imprimé cachemire ton sur ton au dos.
An unsophisticated design based on a pattern out of the Blackbird Designs booklet "Joyeux Noël", stitched on Zweigart Newcastle "Flax" linen. Green tone on tone paisley fabric at the back.