Erreurs de calcul / Counting wrong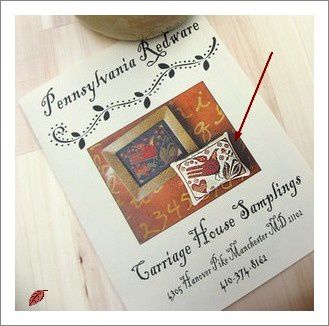 Madame Carriage House Samplings (Kathy Barrick-Dieter à l'état-civil) met fin à sa carrière de dessinatrice d'ouvrages au point de croix. Dans le stock qu'elle liquide sur etsy, je découvre un bel oiseau rouge qui fera du plus bel effet une fois terminé en coussin sur mon canapé. Que je crois. Parce que dès que je commence à le broder, je me rends compte qu'il s'agit d'une quasi-miniature (8,5 x 6,5 cm, sur Gander 19 fils)... Erreur de calcul (en fait, pas de calcul du tout...)
Mrs. Carriage House Samplings (aka Kathy Barrick-Dieter) will no longer be designing cross-stich charts. While visiting her etsy shop where she sells her OOP patterns, I spot Pennsylvania Redware which I am sure will look great finished as a small cushion for my sofa. Stooopid me. Because as soon as I start stitching the piece, I realise it borders on the miniature (8.5 x6.5 cm, on 48-count Gander)... I should have counted my stitches better (I actually didn't count at all...)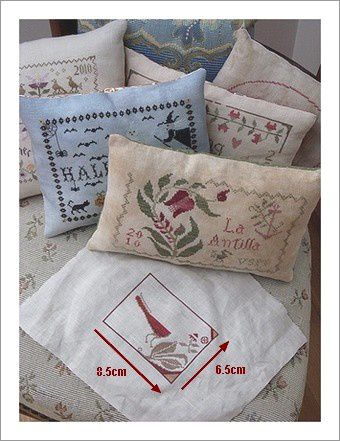 Pas grave. J'ai transformé l'essai en petit tableau souvenir - là encore, il doit y avoir erreur de calcul, je n'ai pas déjà un an de plus ? Si ? Ah bon. Alors erreur pour erreur, marquons le coup !
Never mind. I have framed the intended cushion into a small commemorative piece - here too, something must have gone wrong, I can't be one year older already, can I ? I can ? Alright, might as well mark the occasion !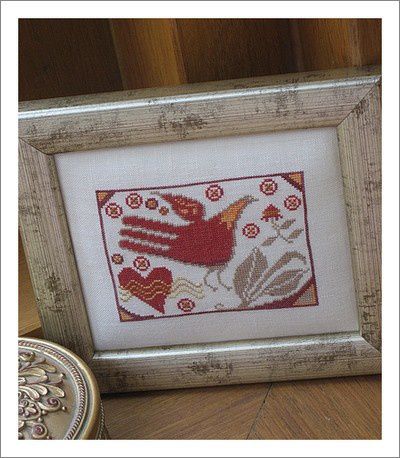 Discrètement au dos du tableau...
Hidden at the back...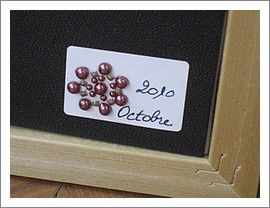 Et c'est parti pour une autre année !
Let's see what the next 12 months bring !