Enigme / Enigma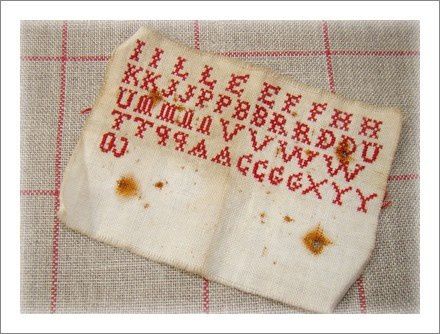 L'original, c'est un petit marquoir rouge énigmatique, chiné sur le marché aux puces de la Porte de Vanves et maintenant propriété de Carol. Je m'en suis servi comme modèle, grâce à Carol qui a retranscrit les lettres (ici), j'ai choisi de broder en bleu passé sur une toile vieillie artificiellement (procédé très moderne "thé + micro-ondes") - pas vraiment une reproduction.
The original piece is a small enigmatic sampler found on a Parisian flea market and now belonging to Carol in England. I have copied it too thanks to Carol who has charted it (here), but it is not really a reproduction as it is stitched in faded blue on home-dyed linen ("tea + microwave" process - quite modern).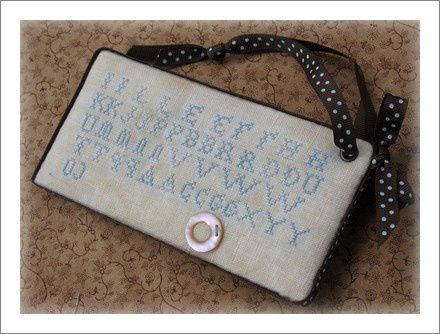 Difficile de deviner d'où vient l'original, pour quel usage il a été brodé, les lettres s'enchaînent sans queue ni tête, pourquoi est-il taché de rouille, les lettres O et le J sur la dernière ligne sont-elles des initiales ? Pas de réponse, mais du coup, j'ai voulu donner à mon ouvrage une destination bien précise : j'ai bricolé un étui à ciseaux pour mes derniers "Roulot" et utilisé le marquoir pour en recouvrir le dos.
Where does the red sampler come from, what was it stitched for, why don't the letters make any sense, why is it stained with rust, are the O and the J on the last line the stitcher's initials - I haven't got a clue. This is probably why I have decided to make something our of my own version : the back of a scissor sheath meant to protect my latest "Roulot" purchase.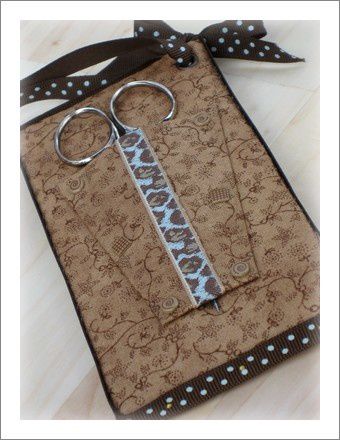 Pour façonner l'étui, j'ai joué de la pince crop-a-dile et utilisé une série d'attaches parisiennes de la teinte exacte du tissu (collection "Magic Garden" par Blackbird Designs) : attaches comme tissu cohabitaient dans mon stock, mais ne s'étaient jamais rencontrés, encore un heureux mariage !
My crop-a-dile punch came in very useful to make the sheath, tied with brads exactly the same colour as the fabric ("Magic Garden" collection by Blackbird Designs). Both the brads and the fabric had been living next to each other for a while in my stash without having ever met - another match made in heaven !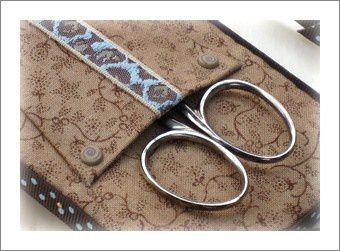 L'anneau en nacre cousu à côté des lettres - lui aussi chiné sur une brocante - permet d'y accrocher des fils : ici, une échevette de soie Belle Soie "Petticoat Blue" (comment résister à l'appellation : "bleu jupon" ?)
The mother of pearl ring sewn next to the rows of letters - another antique market find - can be used to hang threads ; here a skein of Belle Soie silk which bears an irresistible name : "Petticoat Blue".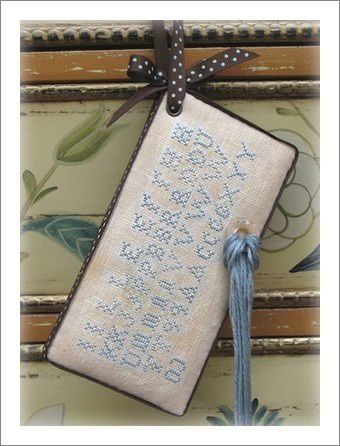 En fait, j'ai étrenné ce fameux bleu en brodant quasi-compulsivement un motif tout aussi irrésistible récemment édité par ces dames de Blackbird Designs. Je ne vous en montre qu'un petit bout, quoique je j'aie fini de broder le dessin, parce que je ne sais pas encore comment je vais l'utiliser, mais c'est certain, il ne restera pas au fond d'un placard, il est trop lumineux pour ça !
As a matter of fact, I had started a first project with this very pretty blue, a model recently published by the Blackbird Designs ladies, which cannot be resisted either. Although I have finished stitching the piece, I am only giving you a partial glimpse, because I don't know yet how I shall finish-finish it, but for once, it will not lay forgotten in a cupboard, it is too pretty not to be in the limelight !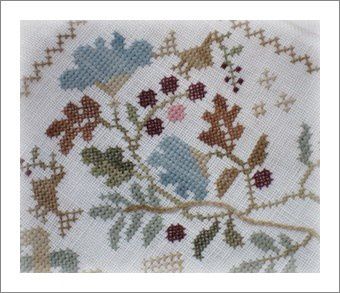 Averses et éclaircies se succèdent, voilà qui annonce le retour du printemps. Il reste trois semaines d'hiver, la neige pourrait bien tomber encore... Le mauvais temps me garde à la maison, et me donne l'excuse de bricoler : je ne vais pas m'en plaindre !
Rain showers alternate with short sunny episodes, it is the first sign that spring will be returning soon. There are three more weeks of winter to go, we could still get some snowfalls... However, as bad weather provides me with the excuse to stay indoors and craft away - I should not complain !