En-cours & projets / WIPs & Future Projects

Je me suis finalement lancée dans la réalisation d'un autre monument à médaillons, Quaker Virtues de ByGone Stitches (c'est mon troisième, après Mouliné Rouge de LongDog Samplers et Christmas Quaker également de ByGone Stitches). Après avoir brodé avec du vert très foncé puis du rouge vif, c'est dans deux teintes très douces de bleu - soie d'Alger du Ver à Soie - que je travaille, sur toile Gander blanche 16 fils.
After much dithering, I have started another large medallion sampler, Quaker Virtues by ByGone Stitches (the third one after Mouliné Rouge by LongDog Samplers and Christmas Quaker by ByGone Stitches). I stitched the first one in very dark green, the second one in bright red and I am now using soft blue - two shades of AVAS Soie d'Alger - on white 40-count Gander linen.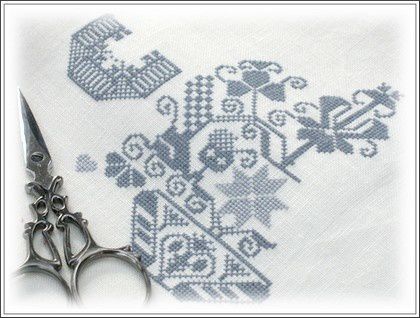 Dilemne cependant, car le facteur me livre un coupon de toile C'Mon Monde "marron hérisson" et une cartonnette de fils House of Embroidery couleur "Tulip" : j'ai soudain envie de broder du rose !
It is a cruel dilemma I am confronted with though, as the postman has just delivered some dusty rose linen (C'Mon Monde) and House of Embroidery "Tulip" stranded cotton floss and I suddenly feel like stitching in pink !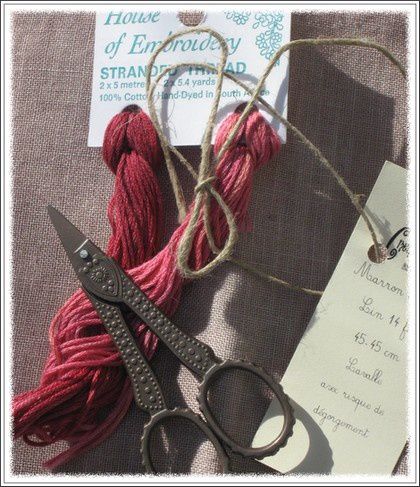 Même si les températures aujourd'hui nous font enfin sortir de l'hiver, je m'y replongerais volontiers avec Winter Wonderland, le dernier livret Loose Feathers de Blackbird Designs que je viens aussi tout juste de recevoir.
Outside temperatures have risen by 9°C, a sign that we are progressing towards spring , but I wouldn't mind staying behind with Winter Wonderland, Blackbird Designs' latest Loose Feathers leaflet that I have only just received.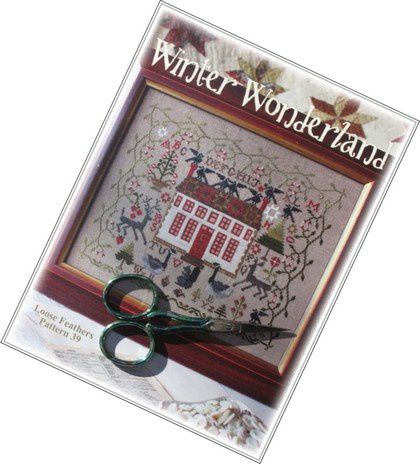 Quel ouvrage vais-je donc emporter pendant mes vacances savoyardes ?
Which project will I take with me during my upcoming skiing holidays ?