Blanc et bleu / White and Blue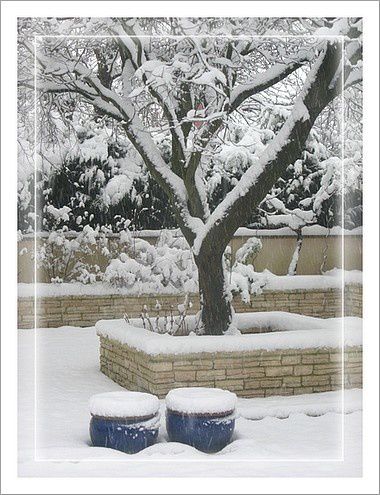 Dimanche matin, réveil tardif... Première impression : le jardin a été repeint en blanc... Ensuite, je me souviens pourquoi la nuit a été courte... Je me suis couchée tard à cause de...
On Sunday morning I woke up pretty late. The first thing that struck me was that the garden had been re-painted white... Then I remembered why the night has been so short... I had gone to bed late because of...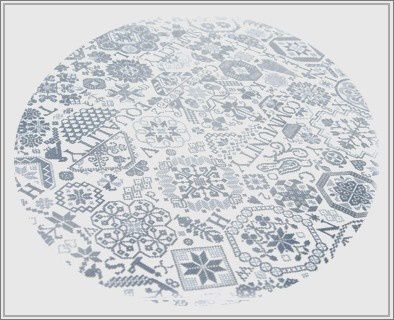 Passé minuit la veille, j'ai - enfin - terminé Quaker Virtues (ByGone Stitches), commencé il y a 10 mois. En intégrant au final le millésime de sa réalisation (permettant ainsi de camoufler un faux-pas à deux fils près qui ne laissait plus l'espace nécessaire au motif original).
Way past midnight on Saturday, I put - at last - the final stitch to Quaker Virtues (ByGone Stitches) which I had started back in February. I added the year mark in a medallion that - because of a 2-thread miscount - had shrunk in size and thus become too small to integrate the original motif.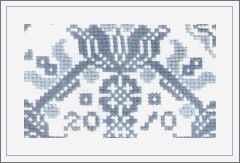 Ouvrage réalisé sur de la toile Gander 19 fils, avec deux teintes de Soie d'Alger. Il y a eu quelques moments de lassitude, mais dans l'ensemble, je me suis régalée.
The project has been stitched on 48-count Gander linen, with AVAS Soie d'Alger silk. There have been moments when I have felt like giving up, but altogether, I have really enjoyed this project.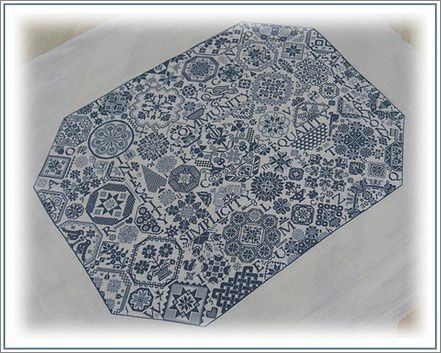 Quelques petites erreurs sont parsemées ici et là et je me souviens du dilemne à chaque imperfection - défaire ou laisser en l'état ? Je me souviens du plaisir plus ou moins prononcé à broder chacun des motifs, et j'ai une affection particulière pour certains d'entre eux.
There are a few errors here and there, and I remember the dilemmna every time it occurred - leave it or unpick it ? I remember too how it felt - pleasant or less pleasant - completing each individual motif and there are some of them that I am particularly fond of.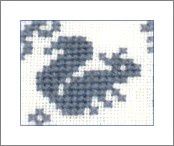 J'ai roulé la toile, comme le font les peintres, en attendant de la confier à l'encadreur. Car cet ouvrage mérite tout de même un traitement d'exception, non ?
I have rolled the linen like a painter's canvass to store it before I take it to the framer's. I feel that this project deserves a special treatment, doesn't it ?