Couture / Sewing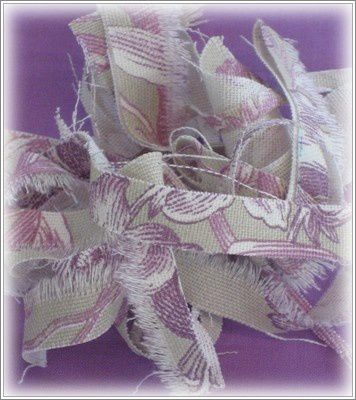 Parce que le dimanche de Pentecôte est une veille de jour férié, ça pouvait être un jour de couture - il me reste toute la journée d'aujourd'hui pour ranger l'inévitable bazar que crée la sortie de la machine à coudre ! J'y suis allée au feeling, sans patron mais avec des idées, persuadée que la jolie toile de Jouy trouvée dans l'Armoire de Valentine (la première photo montre ce qu'il en reste, c'est à dire rien !) guiderait mon inspiration. Et voilà le résultat :

As Whitsunday is followed by a Bank Holiday, I could turn the day into Sewing Day, knowing I'd have the next day to clear things out - whenever I take the sewing machine out, chaos ensues ! I went by trial and error, having no pattern at hand but plenty of ideas, and convinced that the pretty toile found in Valentine's Cupboard (not much left of it, I am afraid, see picture above !) would feed my inspiration. And here is the result :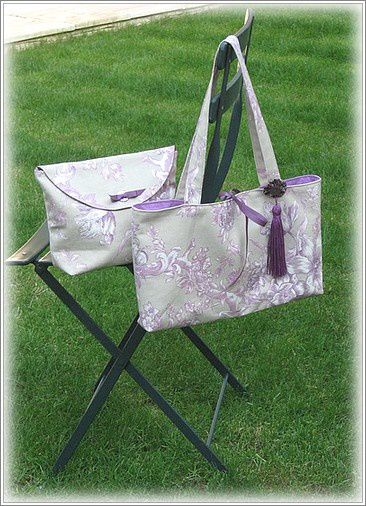 Une pochette style trousse de toilette - mais peut servir à tout - et un sac à ouvrages suffisamment grand pour y glisser mes fiches de point de croix sans les plier.
A pouch that looks like a sponge bag - but can be used for any needlework-related purpose - and a project bag large enough to hold stitching charts without folding them.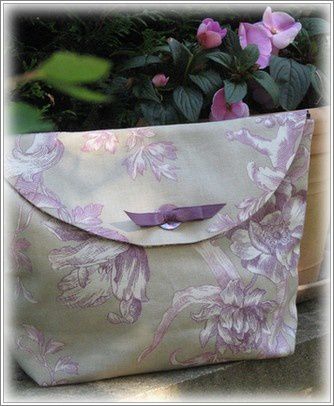 Pour tracer l'arrondi du rabat, j'ai utilisé le bord d'une assiette. Pour l'aménagement intérieur, j'ai ajouté une poche rectangulaire, une lanière avec un mousqueton, et une bande pour maintenir à la verticale les objets quelqu'ils soient (tube de crème pour les mains, ciseaux, rouleaux de tissus...)
I used the rim of a plate to draw the rounded flap. Inside I added a rectangular pocket, a lobster clap tied to a ribbon, and a band to hold vertically whatever items are carrried around in the pouch (hand cream tube, scissors, fabric rolls...)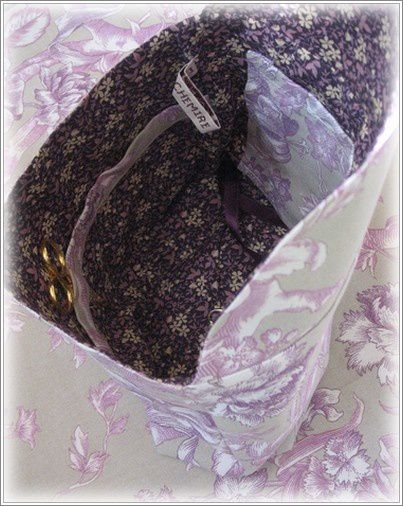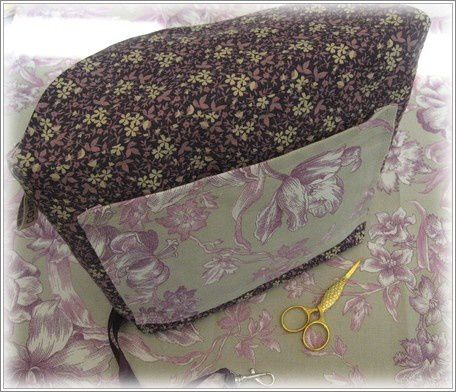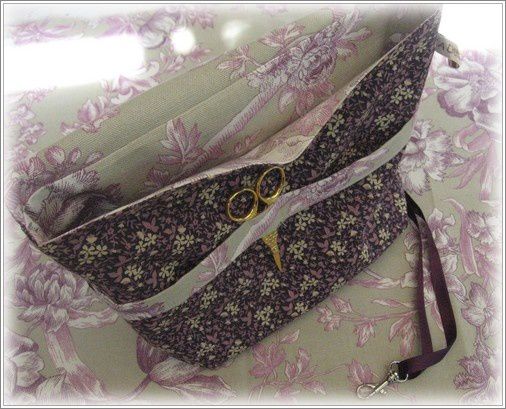 Le sac à ouvrages est plus simple, avec une grande poche à l'intérieur et un mousqueton pour les ciseaux. Les boutons sur base froufroutante n'ont pas qu'une vertu décorative, ils servent aussi à la brodeuse que je suis à y accrocher les fils déjà coupés en attente d'être transformés en aiguillées. Le pompon amovible, c'est pour faire joli, rien d'autre !
The project bag has less sophistication, there is one large pocket inside, with a lobster clap for scissors. The frilly-base buttons are not for show only though, they serve a stitching purpose : saving already cut lengths of floss before threading them. The removable tassel has no use, it is decoration, nothing else !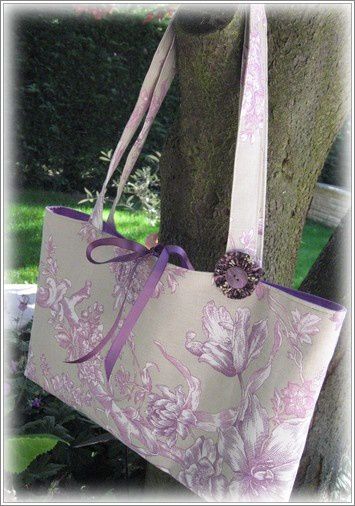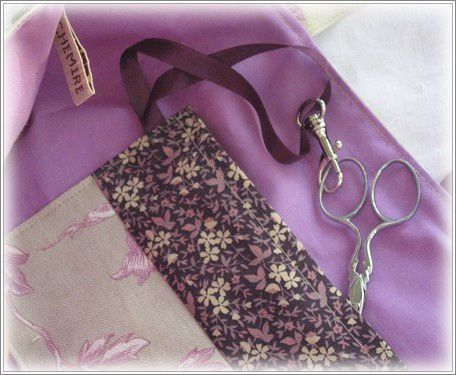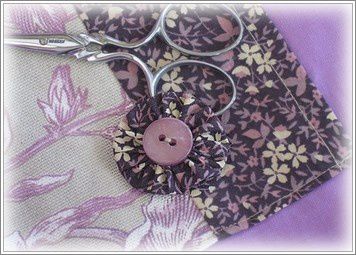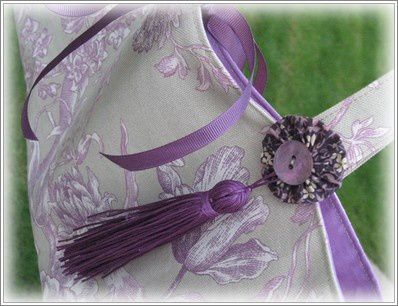 Un autre sac, d'un style très différent, est en préparation, il sera montré plus tard. Comme mon séjour était de toute façon transformé en atelier au grand désespoir de mon entourage, je n'ai pas résisté à fabriquer quelques coussinets à la lavande, en prévision du marché de Noël 2010.
Another bag, very much different from the above, is in the making and will be shown later. As my living room was - to my family's utter despair - turned into a sweatshop, I also grabbed the opportunity and made a few lavender pillows, getting ready for Christmas Market 2010.