Mention spéciale // Special mention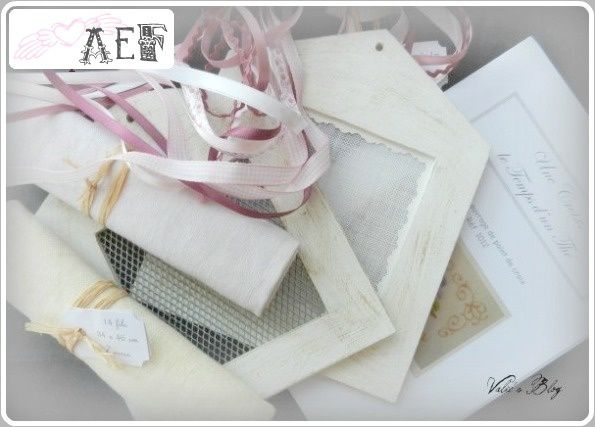 L'année dernière, Une Croix, le Temps d'un Thé fut le dernier stand visité à l'AEF, je ne m'y étais pas attardée, j'étais fatiquée, j'étais attendue ailleurs. Mais je m'étais promis d'y revenir, et j'ai eu raison, la boutique de Jennifer est tout en irrésistible douceur(s). La maîtresse des lieux propose en plus de ses toiles teintes artisanalement dans de tendres couleurs pastels (en photo, coupons 14 fils vanille gourmande et rosée du matin - c'est moi qui les ai baptisés ainsi !) et de ses grilles aux motifs délicats, de malins petits cadres en bois patiné blanc, très originaux (mises en scène ici). J'ai fait quelques emplettes (sans commentaires) et j'espère bien que mes idées de réalisation, qui comme d'habitude foisonnent de manière peu raisonnable dans ma tête, finiront par se concrétiser.
Last year, I paid only a fleeting visit to Une Croix, le Temps d'un Thé at the AEF, I had spent the whole day at the show, I was tired, I wanted to go home. But I had made a mental note that I should absolutely visit again, and I was right: Jennifer's shop is filled with sweet temptations. On top of the linen that she hand-dyes in pale candyfloss hues (vanilla cream and morning dew -my own description !- in the picture) and her pretty little designs, she markets small wooden frames, with a white patina finish, that are clever and original (go here to see how they can be used). I purchased a few items (I did say "a few") and I certainly hope that the creative ideas that are typically and unreasonably cluttering my thoughts, will turn into pretty projects sooner or later.