Coup de coeur / Love love love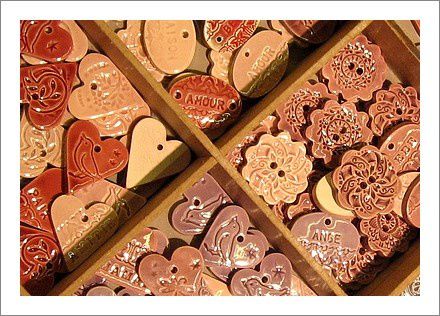 Véritable coup de coeur... pour Rouge petit coeur ! Exposant coché sur ma liste avant de me rendre au salon Créations & Savoir Faire Marie Claire Idées, et qui à lui tout seul m'a convaincue de partir en expédition à la Porte de Versailles. Oh, il y avait de fort jolies choses sur place, et vous trouverez d'excellents reportages ici et là dans la blogosphère, mais de tous mes achats du jour, ce sont les créations "Rouge petit coeur" en faïence émaillée qui me réjouissent le plus.
Fell in love love love with Rouge petit coeur (literally Litte Heart red) ! After checking her website prior to my visit to the Créations & Savoir Faire Marie Claire Idées craft show, I had ticked the name of this ceramist on my list as a must-see . Indeed, it was what eventually decided me to brave the elements and go to the show. There were plenty of beautiful things on display and money could easily be spent - you will find interesting reports in the blogosphere - however, of all my purchases, the ornamental Rouge petit coeur ceramic pieces are my favourites.

Plutôt que d'exposer la photo de mes différentes acquisitions, je vous enjoins à aller sur le site de Myriam Rouvière pour y admirer toute l'étendue de sa créativité : http://rougepetitcoeur.canalblog.com/
There are plenty of pictures on Myriam Rivière's site, that reflect her creative spirit better than my own pictures would do : http://rougepetitcoeur.canalblog.com/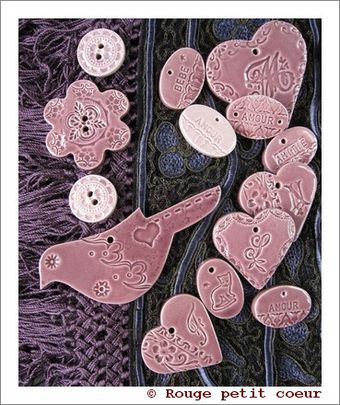 Un véritable trésor pour moi, les pièces ornées d'une croix huguenote, symbole cher à mon coeur - j'en ai choisi 6 différentes tant par la forme que par la couleur... Elles feront de formidables cadeaux de Noël.
I bought 6 pieces with the Huguenot cross design - a very meaningful symbol for me - finished in various shapes and colours... They will be wonderful Christmas presents.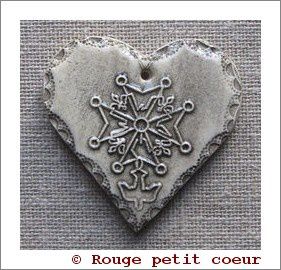 Suspendu par un ruban de velours, un coeur d'un joli vert sapin réalisé avec un moule alsacien à springerle a vite trouvé sa place chez moi... Les choix de Myriam me vont décidément droit au coeur !
There is now a luscious green heart made with an Alsatian springerle mold hanging by a velvet ribbon on one of my walls... Myriam's choices decidedly tug at my heart strings !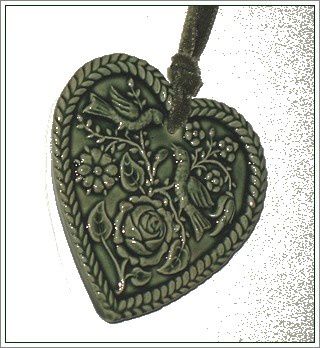 Je crois, j'espère, que Myriam Rouvière sera présente au salon L'Aiguille en Fête - parce que j'ai fait l'impasse sur ses cages à oiseaux, et je le regrette bien. Vivement février !
I keep my fingers crossed that Myriam Rouvière will be present at the Aiguille en Fête show - because I didn't buy any of her birdcage pieces, and I bitterly regret it. Can't wait for February !