Confusion / Lack of focus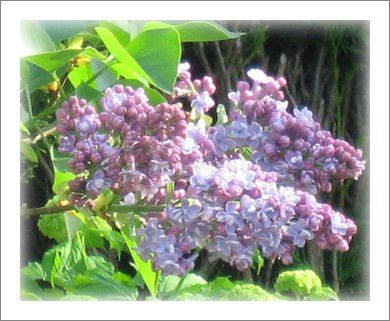 Ca fait déjà presque un mois que le printemps est arrivé, et qu'il nous comble de soleil. Pour cause de désorganisation aggravée, j'ai laissé en plan un bout de toile brodé pour l'occasion.
It is almost a month since spring set in, and the sun has been shining pretty generously. Because I seem to have been unable to focus lately, this piece of linen has been left lying in my stitching basket.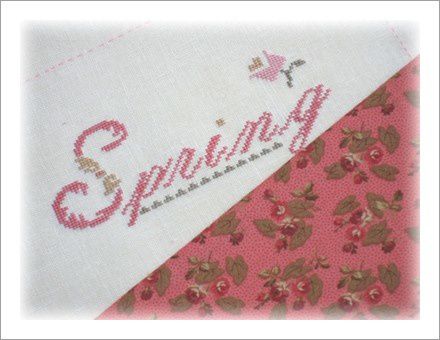 Dans un sursaut d'activité, il a été hier transformé en coussin et a rejoint ses congénères sur la "chaise à coussins" (sur laquelle il ne faut surtout pas s'asseoir, au risque de se retrouver les quatre fers en l'air).
It was eventually turned into a small pillow yesterday and thus could join its comfy brothers on the "pillow chair" (one should better not sit on that chair, lest one would end up on the floor with a broken arm or leg).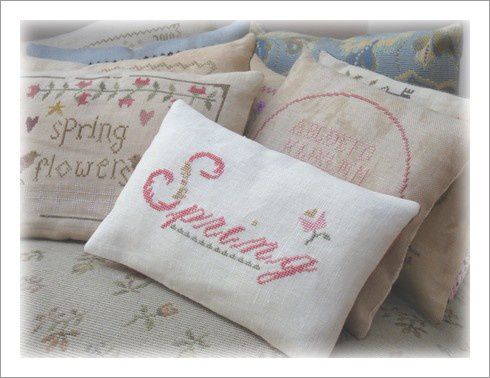 Je me suis rendu compte un peu tard que j'avais oublié d'ajouter la date... On peut toujours rêver de printemps éternel. Pour Pâques, pas de travaux d'aiguille, je me suis contentée de fabriquer quelques petits lapins en pâte à sel.
I realised a bit late that I had forgotten to stitch the year... One can dream of an eternal spring. No needlework project for Easter, I have only made a few salt dough bunnies.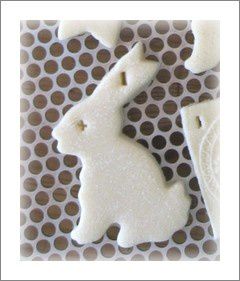 J'ai testé aussi les effets de la peinture craquelée : ici une boîte en carton avec une finition vintage. Encore du vieux avec du neuf. Je compte faire de nouveaux essais pendant le week end de Pâques (d'accord, Khôpine ?).
I have also been toying with brushes, paint and varnish : here is a carboard box with a vintage crackle finish. All fake. I'll try some more during the Easter week end.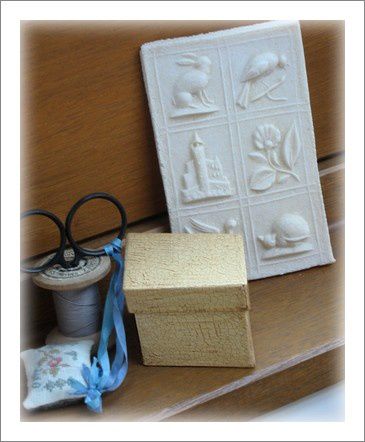 En attendant, je poserais bien ma tête sur mon mini-oreiller et je ferais bien une sieste.
Meanwhile, I wish I could rest my head on my mini-pillow and enjoy a little siesta.