Carnet rose // Pink Delivery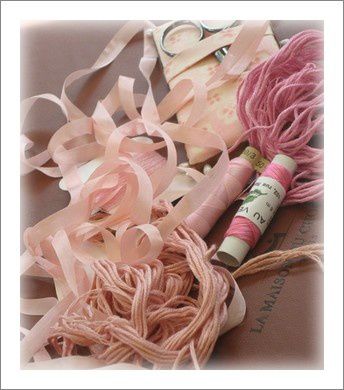 Chez AVAS (Au Ver à Soie), j'ai fait l'acquisition en début de mois d'un pack "rose" composé de soies diverses (perlée, d'Alger, 1003, ruban...) , vendu dans le cadre d'une opération caritative : plus d'informations ici. Il y a peu de chances que je participe au concours, mais voilà que le faire-part de naissance d'une petite fille s'est opportunément matérialisé dans ma boîte aux lettres samedi matin, et m'a permis d'étrenner mon pack sans attendre.
Earlier in the month I bought a "pink" silk pack from Au Ver à Soie - packs, made of different threads (perlée, d'Alger, 1003, ribbon...), are sold as part of a charity initiative : more details here. Chances are thin that I shall play along and participate in the creative project , but as a baby girl birth announcement was delivered in my mailbox on Saturday morning, I started using the threads earlier than expected.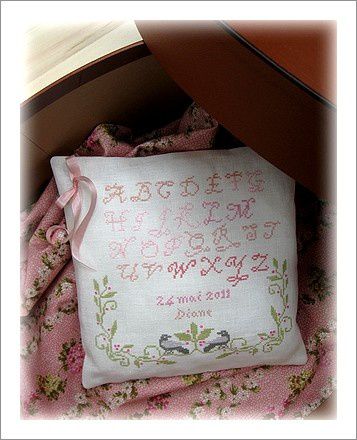 J'ai profité du long week end de Pentecôte pour broder et fignoler un coussin à l'attention de ce bébé arrivé aux beaux jours, et dont j'ignorais même qu'il était en préparation ! La jeune maman a gardé nos enfants les soirs de sortie... il y a des années.
I made good use of the long Pentecost weekend to stitch and finish a small pillow for the attention of this spring baby; I didn't even know it was on its way ! The happy young mother used to babysit for us... ages ago.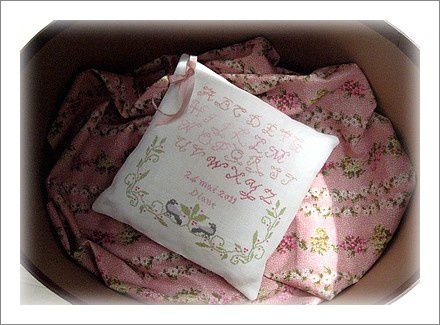 *Mary E. Higdon 1851*
BLACKBIRD DESIGNS
Encore un modèle de Blackbird Designs, adapté pour l'occasion. J'avais gardé le souvenir d'une version dans des tons roses aussi, réalisée par Fred (L'Atelier de Valentine), que j'avais bien aimée. Pour le dos du coussin, j'ai trouvé dans mon stock un imprimé à guirlandes de fleurs, parfaitement assorti : qu'est-ce que j'aime ces hasards !
It is once more a Blackbird Designs pattern, customised to suit the event. I remembered that Fred (L'Atelier de Valentine) had stitched a pink version too, a while ago, and that I had liked it very much. The cotton fabric at the back of the pillow is out of my stash, pink with a flower garland print : I love it when I find the perfect match !