C comme... / C for...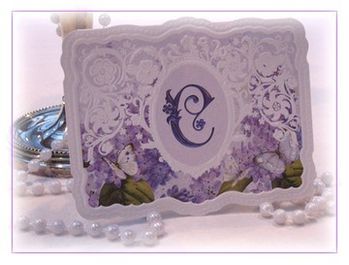 C comme... Carol et comme Cadeaux de Noël, arrivés à la mi-janvier, c'est formidable pour prolonger la fête ! Merci Carol, merci mille fois.
C for... Carol and for Christmas gifts received mid-January, which wonderfully make celebrations last longer ! A million thansk to you, Christmas Carol.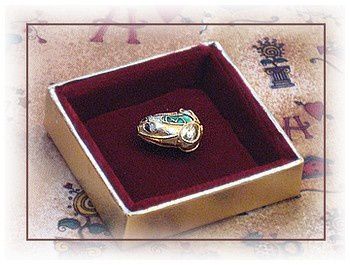 Une perle en forme de grenouille sur un lit de velours cramoisi - mes origines sont-elles en cause ?
A bead in the shape of a fog crouching on red velvet - do I read French Frog here ?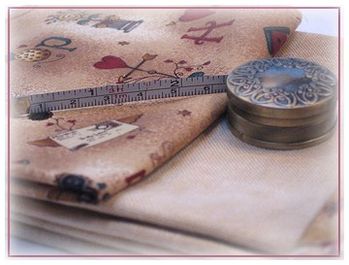 Un mètre enrouleur à la finition vieux bronze pour mesurer au choix en cm ou en pouces la taille des jolis coupons imprimés Debbie Mumm inclus dans l'envoi.
A measure tape with an antique finish to measure in centimeters or in inches - you choose - the size of the pretty Debbie Mumm coupons included in the package.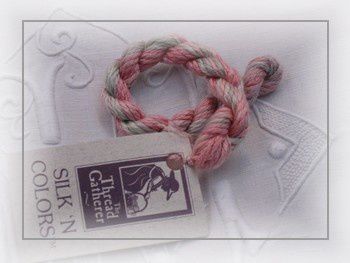 Une échevette de soie aux couleurs tendres...
Cotton candy colours for a skein of silk floss...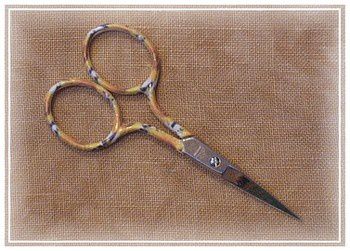 Une merveilleuse pièce de lin dans des tonalités de sable chaud, et des petits ciseaux ensoleillés pour l'accompagner.
A beautiful piece of linen in golden sand hues, and matching sun-kissed scissors.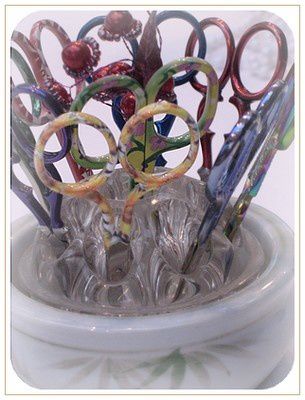 Les-dits ciseaux ont vite trouvé leur place dans le pique-fleurs réservés aux outils de coupe aux anneaux colorés !
The said scissors are now proudly standing with their peers in the small flower frog reserved for cutting tools with coloured handles.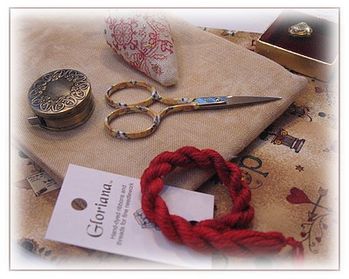 Il y avait dans mon colis tout un tas d'autres cadeaux, je ne vous en ai montré qu'une petite partie, je garde la suite pour de futurs articles... Et pour rester dans le ton, figurez-vous que je suis en train de broder un abécédaire... de Noël !
There were plenty of other lovely gifts in the package, I only showed half of them, I am saving the rest for future posts. In order to keep in the mood, I am currently stitching... a Christmas sampler !