Bleu Nuit / Night Blue
Petit tour chez Gander lors de mon passage en Alsace il y a 15 jours. Pour le plaisir d'entendre le délicieux accent et subir l'humour caustique de l'inimitable employée Suzanne et celui d'admirer les rouleaux de lin bien lisse serrés côte à côte sur les présentoirs... Et pour bien sûr acheter un peu de stock, dont un camaïeu de bleus. Le plus foncé a été quasiment tout de suite utilisé pour broder un motif au clair de lune, "Silent Night" de Shakespeare's Peddler.
During my short break in Alsace a couple of weeks ago, I paid a visit to linen manufacturer Gander. For the pleasure of hearing shop attendant Suzanne's delicious accent and being subjected to her wry sense of humour, of admiring the rolls of crisp linen lying side by side on the large display tables... And to replenish my stash too, with a palette of blues this time. I almost immediatly started stitching on the darkest one, very appropriate a moonlight pattern, "Silent Night" by Shakespeare's Peddler.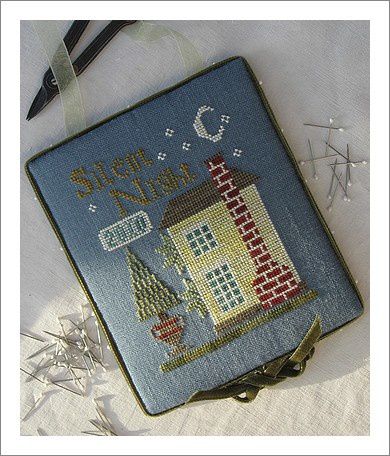 Destiné à La Khôpine, en cadeau de remplacement d'un cadeau dont elle possédait déjà un exemplaire... pas de souci, c'est une habitude ! Finition façon pinkeep, intérieur en molleton rigide, une alternative intérssante au carton + molleton collé. Impossible de nouer en bouclettes l'épais ruban en velours double face, d'où la finition en entrelacs - et ça fait plutôt sympa.
Meant for The Friend, as a replacement gift for a book she already had in her possession... no worries, we are used to such situations ! I finished it as a pinkeep, using Jeffytex for the inside layers, which is an interesting alternative to cardboard + glued wadding. I found it impossible to tie a regular shoelace knot with the thick double-sided velvet ribbon and opted for a bit of extravaganza instead - not bad.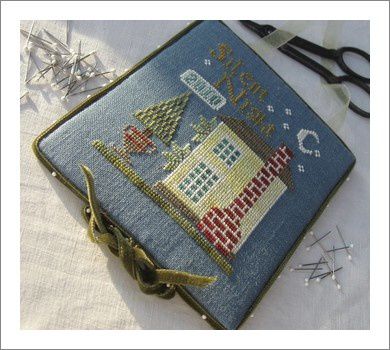 Dans l'espoir que La Khôpine suspendra Silent Night au vu et au sus d'un public - forcément - admiratif, j'ai ajouté au dos du pinkeep un ruban d'organza passé dans des oeillets posés avant son assemblage. A noter que je n'ai pas déposé le brevet, qui aime imite le procédé !
I have attached an organza ribbon at the back, in the hope The Friend will hang Silent Night for all and everyone to admire - of course. No copyright here, if you want to finish your next ornie the same way, please do, only remember to place the eyelets prior to assembling the pinkeep !