Avec un peu d'avance / Ahead of time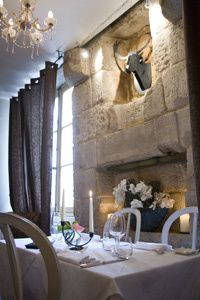 Avec un peu d'avance, je fus invitée samedi à fêter la St Valentin dans le plus vieux restaurant de Paris, l'Auberge Nicolas Flamel, bâtie en 1407... L'édifice fut d'abord un lieu d'accueil pour les sans-abris, construit par le prétendu mais néanmoins célèbre alchimiste Nicolas Flamel et son épouse Dame Pernelle (si vous avez des fans d'Harry Potter dans votre entourage, ils doivent connaître le personnage). La prière que devaient lire les miséreux pour obtenir le vivre et le couvert est toujours inscrite sur la façade récemment restaurée, mais l'ambiance discrète et feutrée et le menu délicieusement chic concocté par le chef Alan Geeam appartiennent bien aux merveilles de notre siècle. Je recommande l'adresse, attention il faut s'y prendre une à deux semaines à l'avance pour réserver...
Slightly ahead of time, I was invited on Saturday to celebrate Valentine's Day in Paris' oldest restaurant, the Auberge Nicolas Flamel erected back in 1407... The place was first built as a hostel for the homeless by infamous alchemist Nicolas Flamel and his wife Lady Pernelle (if you are a Harry Potter's fan, you undoubtedly know all about the character). By ways of payment, the poor were requested to recite the prayer inscribed on the cornice of the building's facade. Thanks to recent careful restoration, the engraved prayer might still show on the house front like it did in the Middle Ages, but the quiet and elegant atmosphere and the deliciously chic menu whipped by chef Alan Geeam work resolutely modern magic. I strongly recommend the place - only be aware that reservations must be made a couple of weeks in advance...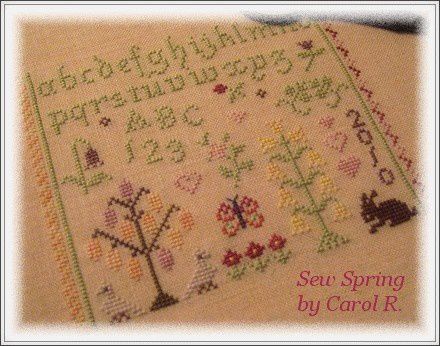 Encore un peu plus en avance, je fête le printemps à venir avec Sew Spring, un abécédaire concocté par Carol R. Une échevette lumineusement "vert printemps" me faisait de l'oeil dans mon stock de soie d'Alger Au Ver à Soie... Alors voilà, un petit motif aux couleurs tendres qui fait un pied de nez à la grisaille hivernale (désolée pour la qualité de la photo, je suis toujours privée de lumière du jour au moment où je peux manier l'appareil photo).
Even more ahead of time, I am celebrating the upcoming season with Sew Spring, a sampler designed by Carol R. I had this bright grass green AVAS Soie d'Alger in my stash - perfect ! So here is a small pattern with luminous colours to fight off the greyness of winter (sorry for the poor quality of the picture, daylight is not available at the times when I can play with my camera).





PS : Béa de Caracas, si tu passes par là, entends mon appel : peux-tu me donner les explications nécessaires pour réaliser un vide-poches comme tu sais si bien les faire ? Merci :-)