AUTOMNE // AUTUMN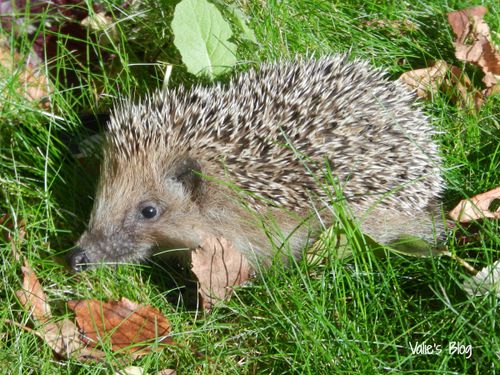 Je vous présente Albert, qui a élu domicile de notre petit bout de jardin. Il aime beaucoup les croquettes de notre chienne, qui elle, apprécie beaucoup moins de devoir les partager. Ce visiteur de l'automne ne restera peut-être pas longtemps chez nous, tandis que les bourrasque sont parties pour durer. Quel temps ! Mais tant mieux, à la Toussaint, je suis restée à l'abri des intémpéries, bougie allumée, et j'ai commencé à doucement préparer Noël. D'abord en ré-éditant mes sempiternels trios de lavande, dans la gamme de tissus Rouenneries de French General; je les ai ensachés pour les mettre en vente au Marché de Noël du 1er décembre. La photo n'en montre qu'un échantillon, j'ai travaillé de manière quasi-industrielle. Le galon "senteur d'armoire" est une création d'Aurélia, pour "Dentelles oxydées".
Let me introduce Albert, who recently moved into our backyard. Albert loves our dog Cookie's food, and the latter is none too happy about it, to say the least. This fall visitor might not extend its stay very long, while storms seem to be here to last. What a weather ! But never mind, during the November 1st break, I snuggly stayed indoors, with candles lit, and started getting ready for Christmas. First by once again making lavender sachets, using French General's Rouenneries fabric line; I slipped them in cellophane bags and will put them up for sale at Christmas Market on the first December Sunday. The pic only shows a sample, I produced the sachets chain gang.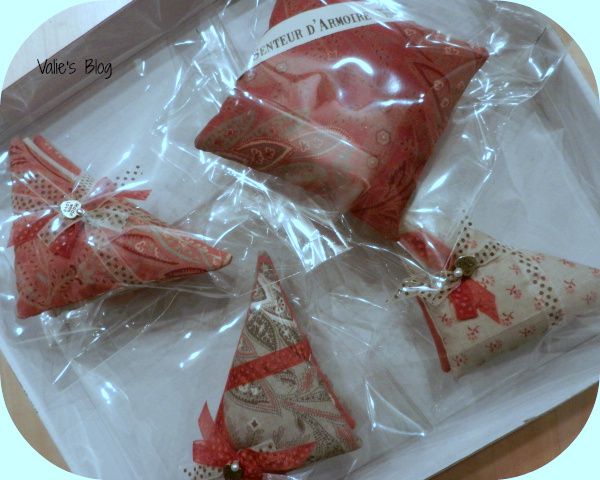 J'ai brodé l'ornement de Noël 2013,en couverture du numéro de décembre de Just Cross Stitch Magazine. Mais mon choix de couleur n'est pas heureux, le résultat est fadasse. Tant pis, il reste encore un mois et demi pour faire mieux.
I also stitched a 2013 vintage ornament, the one on the cover of the December issue of Just Cross Stitch Magazine. I am not happy at all with my choice of colours, too wishy-washy. Fortunately, there is another month and a half to go to produce something better.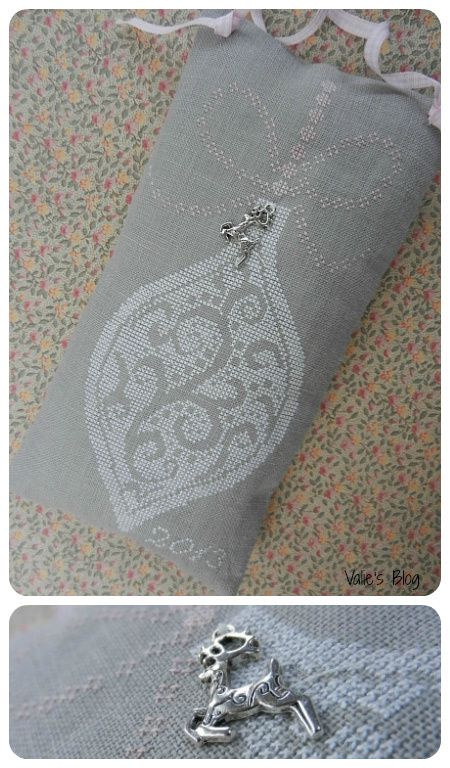 J'ai retrouvé au fond d'une panière ce motif de Noël à lutins, dont la grille m'avait été procurée par la khôpine il y a déjà quelques années (une petite dizaine, déjà ?), impossible de me souvenir du designer... Et hop, un coussinet de plus à suspendre, celui-là n'est pas odorant, mais il "sent" tellement Noël - la cannelle, l'orange et le clou de girofle - à cause de ses couleurs traditionnelles !
I found at the bottom of a needlework basket an unfinished Christmas project, dating back to many, many years ago, I cannot even remember the name of the (French) designer... I turned it into yet another small hanging pillow ornament, it doesn't smell of anything, although because of its traditional colours, one can almost smell the scent of cinammon, cloves and sweet orange ! The tiny buttons were given to me by Carol, I believe, and I am so impressed with myself I could sew them !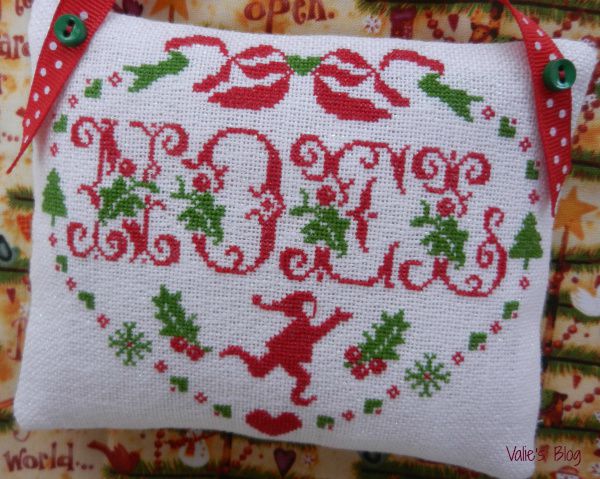 Saison oblige, j'ai aussi profité du week end prolongé pour faire des pots de gelée, dont de la gelée de pommes parfumée au thé nancéein "Le goûter de Stanislas", un vrai régal, et confectionné des sachets en tissu aux couleurs d'Halloween pour stocker les noix ramassées dans le verger - provende abondante cette année, 2012 avait été chiche.
It is also the time of year when I make jars of sweet jelly spread, usually with quince, although this year, I tried apple jelly, flavoured with a special tea "imported" from Nancy - delicious, believe me. I also made fabric bags in Halloween colours to store freshly fallen walnuts, that came this year in abundant supply as opposed to last year.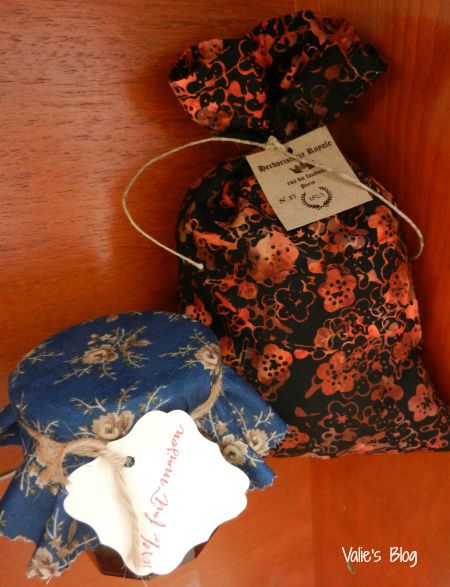 J'ai repris le modèle de Cendrillon que j'avais lâchement laissé tomber - la toile est très fine, et les couleurs sont très ton-sur-ton. Des nouvelles bientôt, sans doute.
I have resumed the Cinderella project which I had dropped with little qualms : the linen is high count, and stitched tone-on-tone, not easy. Expect an update soon.