En avance / Advanced
Premier modèle de Noël millésimé 2011 : j'ai pris beaucoup de plaisir à broder méthodiquement cet abécédaire, à la fois fantaisiste et précis, et qui sera un jour encadré et accroché dans la cage d'escalier(peut-être aux calendes grecques, donc).
My first 2011 Christmas project, : I have really enjoyed stitching this sampler day after day, its design is a happy mix of fantasy and preciseness. I intend to frame it and hang it on my "sampler wall" in the staircase (hopefully before next year).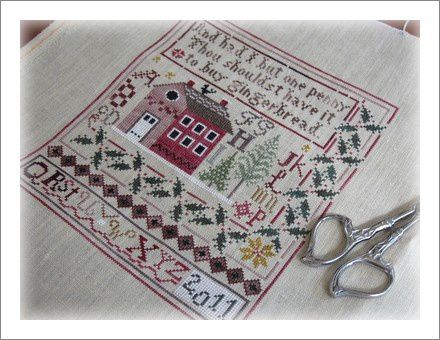 *Jenny Bean's Christmas Sampler*
dessiné par/designed by
Theresa Venette - Shakespeare's Peddler
Pour une fois, je me suis conformée strictement aux couleurs originales, ça faisait longtemps que je n'avais pas travaillé des fils Gentle Art Sampler Threads, et ça a été un véritable bonheur que de manier ces couleurs élégamment nuancées.
For one I have stricly followed the thread list, I had not stitched with Gentle Art Sampler Threads in a long time, and it was quite pleasant to renew the experience and use the subtle colours of the rich and delicate palette.