Anticipation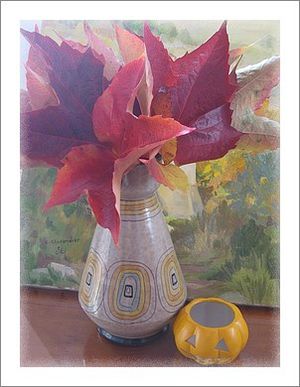 Bon, c'est l'automne, et tous les ingrédients sont là : les feuilles mortes, le temps gris... et bien sûr, l'urgence de préparer le marché de Noël, qui se tiendra à la fin du mois. J'ai fini de remplir un carton de coussins de lavande, et j'ai favorisé cette année la finition en trios de triangles.
So it's Autumn, and it feels like it : dead leaves, grey skies... and of course, the urgency to prepare the Christmas Market, which will take place at the end of the month. I have filled a box with lavender pillows, opting for a triangle finish for my "trios" this year.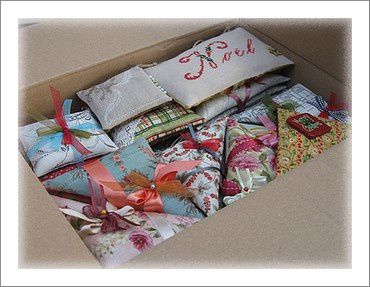 Inévitablement, j'ai brodé un coussinet de porte, tout simple, en rouge et vert. Comme la réalisation en est assez rapide, j'en ai fait un deuxième, sur toile de lin grise et avec un fil de soie dans un ton de rouge/rose framboise, qui a irrémédiablement "bavé" suite à un repassage vapeur un peu agressif... Tant pis, je ne le vendrai pas, je ne le montrerai pas.
As usual, I stitched a door knob pillow, a very simple one, in red and green. As it was a rather quick stitch, I decided to go for another one, using a piece of grey linen and a rosy red silk thread, which bled distressingly following quite thoughtless steam ironing... Too bad, it won't be put up for sale, it won't be put up for show either.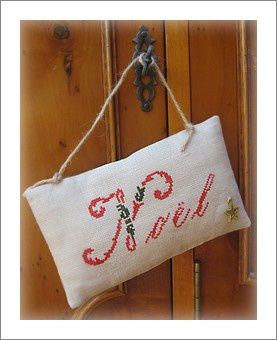 Et puis j'ai trouvé chez notre incontournable marchand suédois un imprimé de pères Noël en costume folklorique de différents pays du monde, et je me suis lancée dans la confection d'une véritable "ligne" de produits : grand coussin, petit coussin, micro coussin, botte de Noël, sachet à friandises... la liste n'est pas finie, sachez que le Mexique et l'Ecosse sont aussi représentées...
And then I visited our favourite Swedish store and found a fabric printed with Santas wearing the national costume of various countries, and I started making what quite looks like a "line" of products : large, medium and small chair cushions, Christmas socking, sweet bag... you name it. Mexico and Scotland are also included in the list...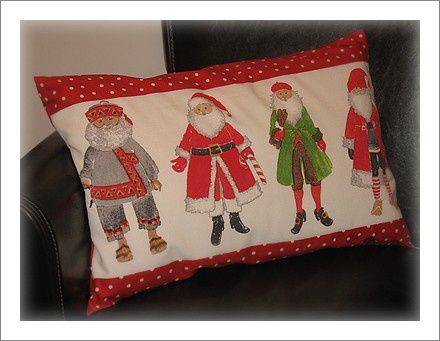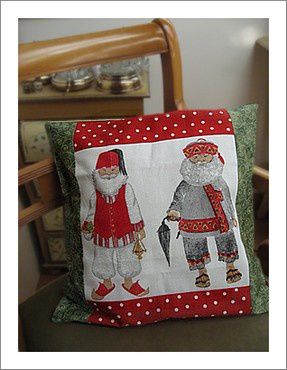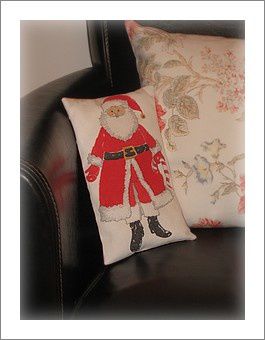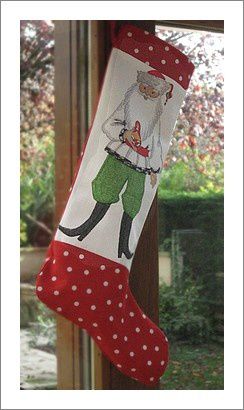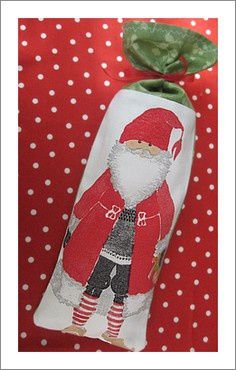 Mon incarnation favorite reste le Père Noël français, avec son béret (rouge, bien sûr) sur la tête et ses baguettes sous le bras - quel cliché - en jaquette et culotte de gentilhomme du XVIIIème . J'en ai fait un coussinet à suspendre, avec du tissu vert assorti au dos.
My favourite Santa is the French one, sporting a béret (red of course) and holding fresh baguettes - what a cliché - and wearing an 18th Century courtier's breeches and dress coat. I turned it into a pillow, with assorted green fabric at the back.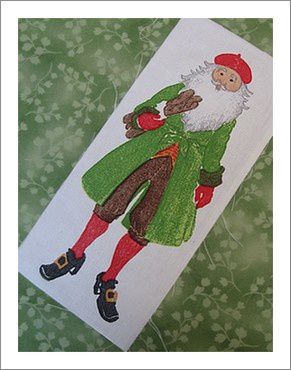 Je m'apprête aussi à broder la dernière création de CarolR, disponible ici. Voilà qui fera une charmante décoration quand le moment sera venu.
I will next stitch CarolR's latest pattern, available here. It will be a pretty decoration when time comes to deck the halls.