Le papillon et la clef / The Key & Butterfly

"Le papillon et la clef" : voilà qui pourrait être le titre d'un conte pour enfants, n'est-ce pas ? Ce sont en fait les deux breloques que Carol et moi avons choisies pour la finition de celui des trois petits Marquoirs d'Atalie, qui a servi de support à notre ouvrage BAM IV.
Carol a brodé sur une toile d'un blanc immaculée avec de la soie d'Alger AVAS bleu 1714; les points carrés sont en coton perlé vert d'eau, comme les délicates petites perles du pourtour. Quant à moi, j'ai craqué pour une toile couleur "Litchi" (C'Mon Monde), du coton Atalie "Rubis" et ai joué les contrastes avec du cordonnet de soie jaune d'or.
"The Key & Butterfly" : could be the name of an English pub, couldn't it ? They are actually the charms that Carol and myself picked to embellish our 4th SWiM project, one of the three "petits Marquoirs" designed by Atalie .
Carol stitched on optic white linen with blue AVAS silk (ref. 1714); the 4-sided stitches are made with pale green perlé cotton, the same colour as the tiny beads sprinkling the border. As for me, I couldn't resist going pink - stitching on "Litchi" linen by C'Mon Monde with Atalie cotton floss "Rubis". The buttercup yellow 4-sided stitches are perlé silk.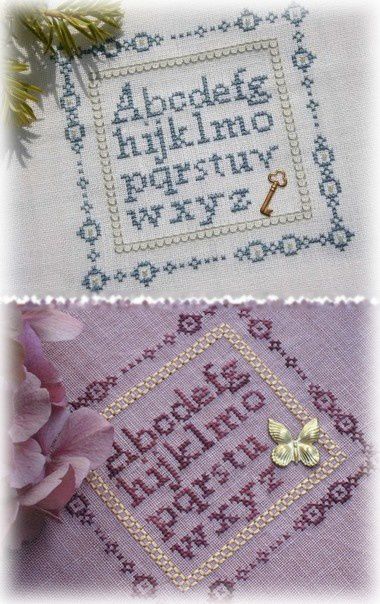 Parties du même modèle, nous arrivons toujours à un ouvrage bien différent : c'est tout le plaisir de BAMer.
We start with the same model, and we end up with totally different finishes : this is the fun of SWiM-(m)ing.