Carte d'anniversaire / Birthday Card

Je dis à mon aîné "Regarde la carte d'anniversaire que j'ai préparée pour ta soeur". Son regard glisse avec indifférence sur mon ouvrage, et il me répond "Où ça ?" avant de réaliser que je parle de l'objet posé sous ses yeux. Et il ajoute "Ah, c'est encore un de tes abécédaires, pas vraiment une carte !" Là, je me dis qu'il a peut-être raison, que ma fille ne lira pas forcément le message maternel sous-jacent dans ce x-ième sampler... Pourtant, au sempiternel alphabet, j'ai ajouté la date du jour et l'âge de la demoiselle : 15 étés, ça vaut bien 26 lettres et un petit lapin gambadeur, non ?
I tell my eldest "Look at the birthday card I have prepared for your sister ". He gazes at the table, ignoring the piece lying there, and asks in return "Where ?" Then he realises what I am talking about, and says "Oh, it's another one of your samplers, not an actual birthday card !" And I wonder whether he is not right, whether my daughter will indeed read my good wishes between the lines of this umpteenth sampler... It might be the same ABC over and over again, but I have added the date and the age of the young Miss : 15 summers are worth 26 letters and a frolicking hare, aren't they ?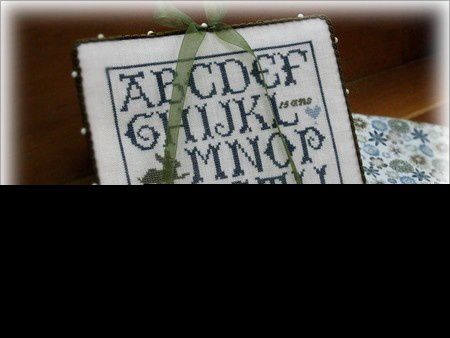 La-D-Da - Free-Bee Alphabet w/ Hare