Petit / Small
L'accroche à ciseaux emperlousée était bien sûr destinée à Carol, qui s'en vint admirer la Tour Eiffel le week end dernier. Il y aura des images sur son blog, j'en suis sûre.
Puisqu'elle a traversé la Manche dans sa voiture amphibie, Carol a pu remplir son coffre à loisir et apporter avec elle ses derniers travaux. Je savais qu'elle aimait les miniatures, mais je ne me rendais pas compte à quel point elle brodait petit-petit. Pour preuve:
The beaded scissor fob was of course meant for Carol, who came over last week end in order to see the Eiffel Tower "in the flesh steel". There will be pictures on her blog later on.
Carol crossed the Channel in her amphibious Mini, and she was able to load the boot with her latest works (of art). I knew that she liked miniatures, but I had not realised before how small she stitched. See for yourself: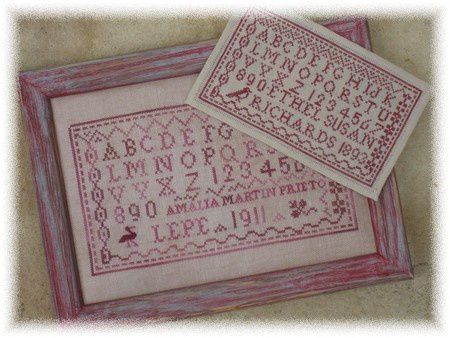 Après avoir vu pareille finesse, je me demande si je ne vais pas arrêter de broder...
I am wondering whether I should not stop stitching altogether...