Bleu Blanc Rouge

Non, non, il ne s'agit pas d'un accès de patriotisme. Quoique les couleurs soient celles du drapeau français comme celles de l'Union Jack... Mais ce sont aussi les couleurs du BAM* réalisé d'un côté et de l'autre de la Manche par Carol et moi-même. Carol est une inconditionnelle du rouge, quant à moi, c'est le bleu, que je n'avais jamais tenté, qui m'a inspiré.
Blue, White, Red... don't misinterpret the title : it does not reflect a sudden bout of patriotism - although they are the colours of both the French national flag and the Union Jack. They are in fact also the colours of the BAM** project that Carol and myself have been stitching each on our side of the Channel. Carol likes redwork, I thought I would try blue - a first for me !

**BAM = Brode Avec Moi (Stich With Me - SWiM !!!)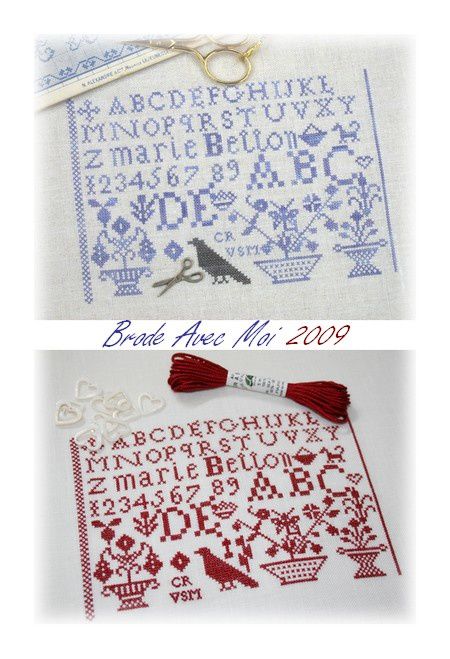 Marie Bellon ou Marie Betton ? Les paris restent ouverts. Il s'agit d'une grille extraite de "Mains & Merveilles n°7", gracieusement mise à disposition par une brodeuse amie. Nous avons l'une et l'autre brodé sur du lin 16 fils, avec de la soie (française) AVAS pour Carol et du coton (anglais) Stef Francis pour ce qui me concerne.
We (I) are (am) not sure of the name stitched on the sampler : Bellon ? Betton ? We shall probably never know. The chart was published in a French magazine quite a number of years ago, and kindly made available by a stitching friend of Carol's. Carol used French silk AVAS while I used English cotton floss Stef Francis, and we both stitched on 40-count linen.


Vue du plafond vitré de ma véranda hier soir... Doigts croisés pour du soleil ce week end !
A view of the ceiling window in the conservatory last night... Fingers crossed for sunny weather this week end !