Petites Lettres Rouges

Les fondatrices de Blackbird Designs, actuellement en balade en France, ont organisé un sympathique concours : il faut aller en lire le règlement ici. J'ai décidé d'y participer, et j'ai gaîment brodé ma version personnalisée du petit abécédaire français déniché par ces dames au marché aux puces et baptisé "Petites Lettres Rouges". J'ai utilisé mes chouchous du moment, les fils de soie Vikki Clayton aux noms évocateurs : WinterBerry, Pink Seas et Enchantress, sur une toile de lin 14 fils teinte au thé et au brou de noix et fixée au micro-ondes.
Barb and Alma of Blackbird Designs, currently touring France, have organised a nice contest : click here to read the instructions and download the chart from their blog. I have decided to enter and stitched my own version of the original Alice Delon sampler, which the BBD ladies have found at a flea market and named "Petites Lettres Rouges". I stitched with Vikki Clayton silk threads (WinterBerry - Pink Seas and Enchantress) - my current darlings - on on a piece of tea/walnut ink-stained and microwave-baked 35-count linen.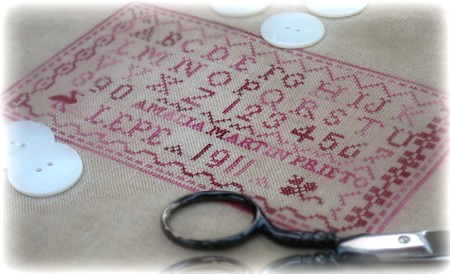 Amalia Martin Prieto était la tante maternelle de mon mari. Elle a vécu toute sa vie à Lepe, province de Huelva, dans la maison où elle a vu le jour en 1911. Elle sans doute été déposée dans son berceau par l'une de ces cigognes qui ont depuis toujours élu leurs quartiers d'été en haut du clocher de l'église située juste en face de la maison. Amalia était brodeuse de profession ; elle travaillait à domicile, ornant des nappes, des chemises, du linge de maison, des surplis et des "habits de lumière" (trajes de luces pour les aficionadas) ... Je ne pense pas qu'elle ait jamait fait de point de croix.
Amalia Martin Prieto was my husband's auntie. She spent her whole life in Lepe (province of Huelva, Andalucia) and never left the house she was born in, back in 1911. The house stands right across the town church and baby Amalia was probably delivered by one of the storks that have established their summer quarters at the top of the bell tower. Amalia was embroideress by trade, working from home, embellishing clothes and houselhold linen, surplices and "suits of lights " (trajes de luces for those of you versed in Spanish bullfighting). I don't think she ever cross-stitched.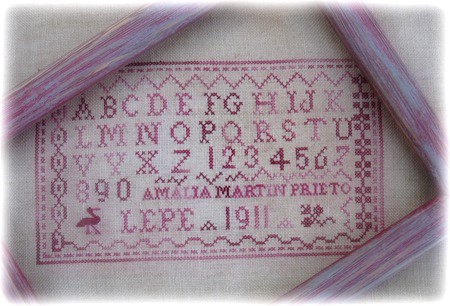 Cet abécédaire va rejoindre - rapidement pour une fois - ma collection accrochée dans la cage d'escalier : j'ai recouvert la baguette en bois d'un cadre déjà assemblé avec une première couche de peinture argentée, puis avec une seconde couche de peinture rouge clair, que j'ai ensuite poncée jusqu'à obtenir l'effet désiré. Il me reste à couper le carton, coller l'ensemble et hop, un abécédaire de plus !
Petites Lettres Rouges will very soon be hanging on the staircase wall, next to the rest of my collection of ABCs. I have painted an already assembled wooden frame with a first coat of silver paint, then with a second coat of light red paint, then sanded it until obtaining the right color and texture. I yet have to finish the back, and the sampler will be one more contribution to the literacy campaign going on in my home !