Tout ce qui est petit... / Sweet & Small

Encore une miniature, mais cette fois il ne s'agit pas de broderie, mais d'un gâteau d'anniversaire... pour (petite) poupée. Acheté l'année dernière sur Portobello Road à Londres, et offert ce week end à une tante bien-aimée pour ses 78 printemps. Elle aménage depuis des années une maison de poupées; enfant, j'étais fascinée par cette maison et les minuscules meubles et objets que ma tante fabriquait elle-même, n'achetant que très peu d'accessoires dans le commerce.
Another miniature, but this time it is not a stitched item, rather a (small) doll-size birthday cake. I found it last year on Portobello Road in London and gave it on her birthday last Saturday to a 78-year old dear Auntie who has been lovingly decorating a doll house for many many years. As a child, I was fascinated by this doll house and the tiny furniture and items that my aunt would make all by herself, only very occasionally buying finished things.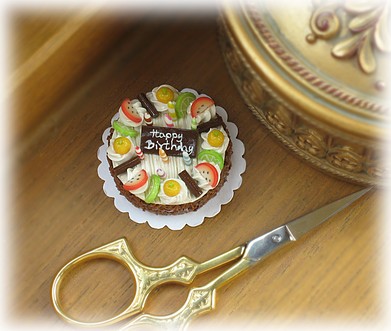 Un carré de tissu noué avec un lien dans le même imprimé a fait office d'emballage cadeau.
A fabric square tied with a ribbon cut in the same floral print provided an original gift wrap.