250%

Et voici la version baluchon, plebiscitée par l'enfant cadette qui a pioché dans mon stock de tissus et choisi ses couleurs. Ca m'aurait étonné qu'elle ne veuille pas du orange... En grand, c'est bien moins mignon qu'en petit, mais l'usage de ce sac sera différent : il sera trimballé par monts et par vaux, traînera régulièrement sur des pelouses ou du ciment, se couvrira de badges et d'épingles de sûreté, sera sans doute un jour rapiécé...
And here is the hold-all version, as requested by my last-born, who rummaged through my fabrics and picked her own selection of colours. I would have been surprised if she had not chosen some orange... The larger version is not as striking as the smaller one, but this bag has a different purpose : it will see many horizons, will be dumped repeatedly and unceremoniously on the ground, will be "embellished" with badges and safety pins, will probably require mending and patching in the future...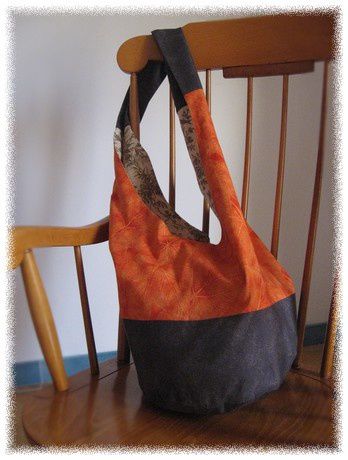 A les voir étalées par terre, on pourrait penser que préparer les différentes pièces a été un jeu d'enfant; curieusement, j'y ai passé un temps fou, et ai commis l'erreur des débutantes de faire chanter les oiseaux de la doublure intérieure tête en bas... Qu'à cela ne tienne, j'ai recommencé !
When you see the various pieces spread out on the floor, you would think that preparing them was child's play; well no, it actually took me quite a while, and I made the beginner's mistake of cutting the inside lining with the birds looking down instead of up... Never mind, new pieces were cut out !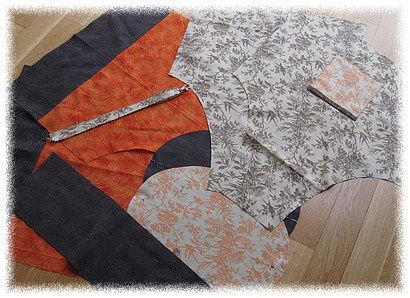 Le sac pourrait être porté dedans dehors, si l'ajout de la lanière équipée d'un mousqueton - prévu pour que la propriétaire du-dit sac retrouve facilement ses clés - ne compromettait pas l'opération reverso; de toute façon, soyons clairs, l'imprimé façon toile de Jouy, ça fait ringard !
The bag could be sported inside out if it were not for the ribbon with a lobster-clasp hook - meant for the owner of the bag to easily locate her house keys - sewn into the seam of the lining. I have also been diplomatically told that the toile print looked a bit "old" and was to be kept discreetly inside !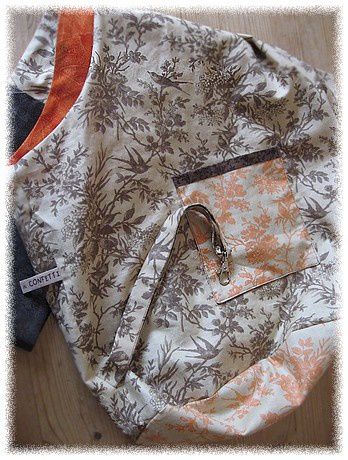 L'anse a été rallongée d'une bonne dizaine de centimètres par rapport au patron original, à la demande de la demoiselle. Plus ça baguenaude, plus c'est cool ! Du coup, le baluchon peut aussi être porté en bandoulière, ça n'est pas si mal dans le métro bondé.
The young miss requested the shoulder strap to be longer by a dozen centimeters compared to the original pattern. An oversized bag is cool ! The bag can thus be worn across the body , which is just as well for crowded Tube journeys.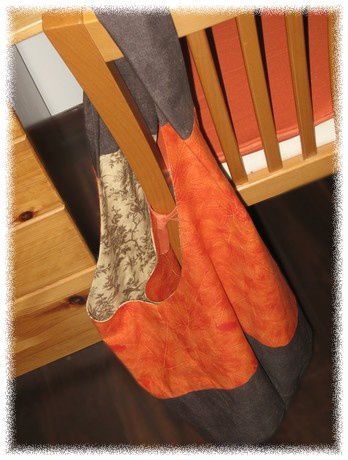 Fille n°1 n'a pas encore finalisé ses choix en matière de tissu. Elle veut aussi une fermeture par un lien à nouer, c'est beaucoup mieux dit-elle. La fabricante écoute, se tait et réfléchit...
Daughter No. 1 has not yet made up her mind as to the fabrics of her dreams. She wants me to add some sort of tying device at the top, much much better she says. The manufacturer listens, keeps mum (no pun intended) and scratches her head...