Toutes les bonnes choses ont une fin... / That's All For Now, Folks !
Le dernier pinkeep de l'Echange franco-belge : un motif volontairement sobre, quelques points spéciaux en cotons nuancés Stef Francis sur une toile teinte "maison", en "rose toujours" nuagé (yessss!), avec un galon combinant étonnamment le violet et le rouge.

Here is the last pinkeep in the France-Belgium exchange series. A sober design, a few specialty stitches with Stef Francis variegated cotton floss, a piece of linen dyed in my kitchen - this time I managed a nuanced pink - and a gros-grain ribbon surprisingly mixing purple and red.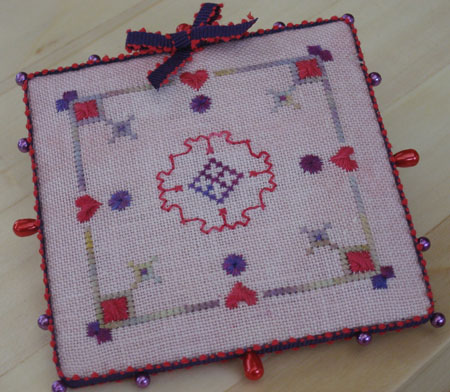 Au verso, une petite poche. Les ciseaux sont à moi, je ne te les rendrai pas , Cécile, je les aime, je les use !

I added a small pocket a the back . The scissors are mine - I shan't give them back to you, Cécile, I like them, I over-use them !



Il faut mettre fin aux choses tant qu'elles laissent un bon souvenir : c'est ce que nous avons décidé d'un commun accord avec Cécile. Cette aventure se termine, quelle sera la prochaine ?

The exercise leaves nothing but lovely memories - both Cécile and I decided that the time had come to put an end to our "contract". The adventure is over, wonder what the next one will be like ?